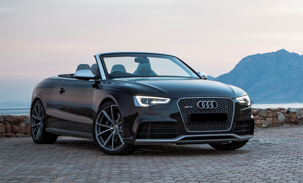 Create your own Audi RS5 Cabriolet!
Method: take Audi RS5. Remove metal roof. Replace with rag-top that folds in 15 seconds at up to 31mph. Add 200kg of stiffeningy weight. Drive like stole.
Not to undermine Audi's technical achievements here, but that seems to be what's happened to an RS5 coupe here.
The drivechain hasn't changed – it's still a 445bhp 4.2-litre V8 with a seven-speed dual-clutch 'box powering all four wheels. It rides, as per the tin top, on adaptive dampers (albeit 20mm lower) that stiffen up when the going gets sporty, and there's special modes that tighten the steering and throttle response.
The numbers haven't suffered too much from the decapitation; it's 0.4 seconds slower to 62mph, clocking in at 4.9 seconds and carrying on to 155mph (raised to 174mph if you cross Ingolstadt's palm with silver).
What compromises for open-air motoring, then? The roof chews through 60 of the coupe's 380 litres of boot space, and there's that 200kg of extra mass. But Audi's tried to skim as many kilos off as possible; the front wings are made from aluminium, and behind eight-piston calipers you get wobbly-edged discs that remove 3kgs of unsprung weight. Those clever Germans.
There's no word on pricing yet, but in Germany a base model sets you back €88,500. That's a shade under £70k…
Source: Top Gears.
To find more about Audi remapping, have a look at Quantum Tuning Audi Remap.