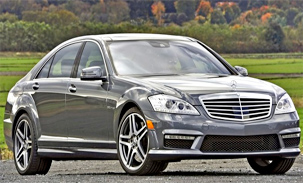 It was barely a fortnight ago that Mercedes revealed the brand new 585bhp S63 AMG. Clearly, Brabus looked at that figure and laughed. Because what we have here is the German tuner's take on the S-Class, packing a helluva lot more power. Welcome to the B63S.
It's the most powerful performance pack available from a trio of upgrades offered by Brabus, the first two weighing in at 520bhp (a simple ECU remap available for the S500), and 650bhp (available on the S63).
But it's the range-topping 'B63S – 730′ that's drawn our attention, chiefly because it gets gold heat reflection on the inlet pipes – a bit like the McLaren F1's engine bay – two special Brabus turbochargers (replacing Mercedes' own blowers) with larger compressor units for higher boost pressures, and a low-temperature water radiator for the intercooling system.
Read more on story @ Top Gears.