Audi A2 Remap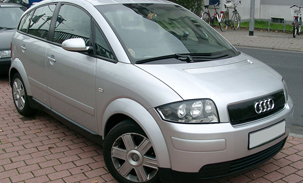 The overriding theme in the design and engineering of the A2 was summarized by the then Audi UK product manager in an interview after the car won a design award in 2001 as "create a small Audi, not a cheap Audi", and the creative brief is said to have been "Transport four people from Stuttgart to Milan on a single tank of petrol".
The A2 is built with a considerable amount of aluminium and aluminium alloy, making it weigh significantly less than cars of similar size. Its reduced weight helps it to use much less fuel than vehicles using traditional steel monocoques. Under certain circumstances, consumption for the 1.2 TDI model can be as low as just over 2 litres per 100 kilometres. This version of the Audi A2 won the "Nordic Eco Run" fuel economy race in 2003, with a consumption of 2.62 L/100 km.Even the normal versions with petrol engines are capable of 5 L/100 km. The A2 was also notable for being the first Audi model since the 1970s Audi 50 not to be offered with its 'trademark' quattro four-wheel drive option. The A2 has a coefficient of drag of between 0.25 and 0.29, depending on the specific version.
If you are in hunt to gain more power, torque and better MPG for your Audi A2 Car? Then look no further.
Our Audi A2 diesel performance chips and Audi A2 remapping via the OBD port will dramatically improve your cars performance and improve your MPG!
Every vehicle we do is Custom Remapped, nothing less will do
Every vehicle we do carries a Lifetime Warranty on the software
Every vehicle we do carries a no-quibble 30-Day Money Back Guarantee
After your ECU upgrade to your Audi A2, you will enjoy:
Performance Result For Audi A2
| | | | | | | |
| --- | --- | --- | --- | --- | --- | --- |
| Model | Original BHP | Tuned BHP | BHP + | Original Nm | Tuned Nm | Nm + |
| 1.4 TDI PD 75 | 75 | 101 | 35.00% | 195 | 245 | 26.000% |
| 1.4 TDI PD 90 | 90 | 116 | 29.00% | 230 | 275 | 20.000% |
[Note: Nm = Newton metre and BHP = Brake Horse Power]
You can call us on our Business number: 08456 529 530. Our Team will be happy to help you.
OR
You can contact Quantum Tuning Certified Dealer located near by you
OR
Click Audi A2 Tuning to buy the remap package.
About DPF REMOVAL:
Quantum Tuning have decided to invest heavily in the most advanced DPF removal software, thereby improving the quality of the DPF remaps and also offer a wider range of vehicles available to have DPF removal software applied. This is the most sophisticated solution on the market and none of your competitors can offer better.