Audi RS4 Remap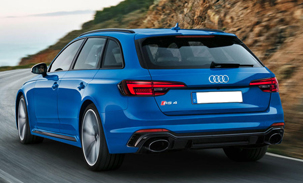 The Audi RS 4 quattro is the top tier and highest performing version of some specific generations of the Audi A4 range of automobiles. It is a sports-focused compact executive car(often called sport compact in some countries), produced by Audi's high-performance private subsidiary quattro GmbH, in limited numbers, for German car manufacturer AUDI AG, part of the larger Volkswagen Group. It slots distinctly above the Audi S4, as the fastest, most sports-focused model based on the A4's "B" automobile platform. The RS 4 made a comeback in 2012, in Avant form only based on the Audi A4 Avant.
So if you are looking for more power, torque and better MPG for your Audi RS4 Car? Then look no further.
Our Audi RS4 diesel performance chips and Audi RS4 remapping via the OBD port will dramatically improve your cars performance and improve your MPG!
After your ECU upgrade to your Audi RS4, you will enjoy:
Performance Result For Audi RS4
| | | | | | | |
| --- | --- | --- | --- | --- | --- | --- |
| Model | Original BHP | Tuned BHP | BHP + | Original Nm | Tuned Nm | Nm + |
| 4.2 V8 FSI | 414 | 432 | 4.00% | 430 | 450 | 5.000% |
[Note: Nm = Newton metre and BHP = Brake Horse Power]
You can call us on our Business number: 08456 529 530. Our Team will be happy to help you. OR
You can contact Quantum Tuning Certified Dealer located near by you OR
Click Audi RS4 Remap to buy the remap package.
About EGR REMOVAL:
Removal of the EGR system by banking off the exhaust input and reprogramming of the engine managment ECU results in lowered engine temperatures, improved throttle response and economy and also can lengthen engine life by reducing oil contamination and carbon deposits.