Audi S4 Remap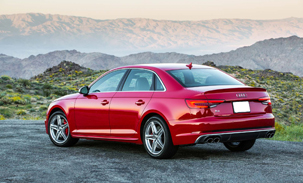 The Audi S4 is the high performance variant of Audi's compact executive car A4. The original Audi S4, built from 1991 until 1994, was a performance-oriented version of Audi's 100 saloon/sedan. All subsequent S4s since 1997 have been based on the Audi A4; and as the A4 has evolved from one generation to the next, so has the S4. A more powerful internal combustion engine, larger upgraded brakes, firmer suspension, larger roadwheels, and distinctive sheetmetal, styling clues and badging have always been amongst the many upgrades the S4 receives over its mainstream 100 and A4 siblings. In markets where the even higher-performance Audi RS4 is not offered, the S4 is the top-of-the-line trim of the A4 family. Like its regular A4 counterpart, all S4 variants have had longitudinally oriented, front-mounted engines. A single turbocharged 2.2 litre inline five-cylinder powered the original C4 version, and a 2.7 litre twin turbocharged V6 engine was found in the B5 generation. The B6 and B7 versions shared a common 4.2 litre V8 engine, the first time that a V8 engine was placed in a compact executive car, placing it in direct competition with the BMW M3 which at the time had a 3.2 L inline 6. The recently introduced B8 generation uses a supercharged 3.0 litre V6 TFSI engine and competes with the BMW 335i.
So if you are in hunt gain more power, torque and better MPG for your Audi S4 Car? Then look no further.
Our Audi S4 diesel performance chips and Audi S4 remapping via the OBD port will dramatically improve your cars performance and improve your MPG!
Every vehicle we do is Custom Remapped, nothing less will do
Every vehicle we do carries a Lifetime Warranty on the software
Every vehicle we do carries a no-quibble 30-Day Money Back Guarantee
After your ECU upgrade to your Audi S4, you will enjoy:
Performance Result For Audi S4
| | | | | | | |
| --- | --- | --- | --- | --- | --- | --- |
| Model | Original BHP | Tuned BHP | BHP + | Original Nm | Tuned Nm | Nm + |
| 2.7T | 265 | 312 | 18.00% | 400 | 485 | 21.000% |
| 4.2 V8 | 345 | 364 | 6.00% | 410 | 440 | 7.000% |
[Note: Nm = Newton metre and BHP = Brake Horse Power]
You can call us on our Business number: 08456 529 530. Our Team will be happy to help you.
OR You can contact Quantum Tuning Certified Dealer located near by you OR
Click Audi S4 Remap to buy the remap package.
About Bosch EDC15:
Bosch Hdi EDC 15 consists of an ECU which analyses the information from the various Sensors, and then operates the injectors at the correct moment. It also controls a Pressure regulator, the exhaust gas recycling electro valve and the turbo charging Pressure modulating electro valve.