BMW X1 Remap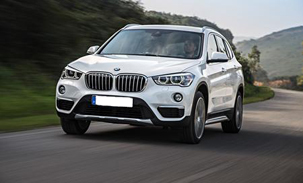 The BMW X1 is a compact luxury crossover SUV developed by BMW, and manufactured by BMW and BMW Brilliance, and marketed worldwide in rear-wheel (sDrive) and all-wheel-drive (xDrive) configurations. Production followed the debut of a concept version at the 2008 Paris Motor Show. with series manufacture beginning at the BMW Leipzig plant in October 2009 — followed by production in Chennai, India (from knock-down kits (CDK)), Shenyang, China, (by BMW-Brilliance Automotive Ltd) and Kaliningrad, Russia (CDK,with local partner Avtotor).

The X1 shares a similar platform with the BMW X3, based on the platform of the BMW 3 Series (E91) Touring (wagon). The EPA classifies the vehicle under the Midsize Cars category.

The X1 introduced BMW's N20 engine in its xDrive28i model. The X1 is slightly smaller and more affordable than the X3.
So if you are in hunt to gain more power, torque and better MPG for your BMW X1 Car? Then look no further.
Our BMW X1 diesel performance chips and BMW X1 remapping via the OBD port will dramatically improve your cars performance and improve your MPG!
Every vehicle we do is Custom Remapped, nothing less will do
Every vehicle we do carries a Lifetime Warranty on the software
Every vehicle we do carries a no-quibble 30-Day Money Back Guarantee
Performance Result For BMW X1
| | | | | | | |
| --- | --- | --- | --- | --- | --- | --- |
| Model | Original BHP | Tuned BHP | BHP + | Original Nm | Tuned Nm | Nm + |
| 18d Boot Tricore | 140 | 180 | 29.00% | 320 | 370 | 16.000% |
| 20d Boot Tricore | 174 | 207 | 19.00% | 350 | 450 | 29.000% |
| 23d Boot Tricore | 201 | 240 | 19.00% | 400 | 480 | 20.000% |
[Note: Nm = Newton metre and BHP = Brake Horse Power]
After your ECU upgrade to your BMW X1, you will enjoy:
You can call us on our Business number: 08456 529 530. Our Team will be happy to help you.
OR
You can contact Quantum Tuning Certified Dealer located near by you
OR
Click BMW X1 Remap to buy the remap package.
About EGR REMOVAL:
Removal of the EGR system by banking off the exhaust input and reprogramming of the engine managment ECU results in lowered engine temperatures, improved throttle response and economy and also can lengthen engine life by reducing oil contamination and carbon deposits.