Chevrolet Epica Remap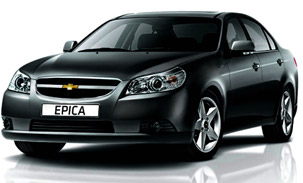 The Epica was in February 2006 along with the SUV Captiva at the Geneva Motor Show unveiled. The saloon replaced the presented in spring 2002 Chevrolet Evanda Compared to its predecessor, the front-wheel drive sedan grew in exterior dimensions only a small extent.The wheelbase of 2.7 meters was even identical to the Evanda. Visually, however, fell to the more modern design with a rounder rear, larger clear glass headlights and a light side rising edge. The basic equipment of Epica LS was beside ABS and six airbags and air conditioning, a CD-MP3 radio, fog lights and a heated windscreen. In the higher- LT equipment, there was also an automatic climate control, parking sensors, electrically folding door mirrors with integrated LED turn signals, electrically adjustable and heated leather seats, on-board computer, CD changer, cruise control, rain sensor and the stability program ESC .
If you are in hunt to gain more power, torque and better MPG for your Audi S8 Car? Then look no further.
Our Chevrolet Epica diesel performance chips and Chevrolet Epica remapping via the OBD port will dramatically improve your cars performance and improve your MPG!
Every vehicle we do is Custom Remapped, nothing less will do
Every vehicle we do carries a Lifetime Warranty on the software
Every vehicle we do carries a no-quibble 30-Day Money Back Guarantee
After your ECU upgrade to your Chevrolet Epica, you will enjoy:
Performance Result For Chevrolet Epica
| | | | | | | |
| --- | --- | --- | --- | --- | --- | --- |
| Model | Original BHP | Tuned BHP | BHP + | Original Nm | Tuned Nm | Nm + |
| 2.0 VCDI | 150 | 179 | 19.00% | 320 | 370 | 16.000% |
[Note: Nm = Newton metre and BHP = Brake Horse Power]
You can call us on our Business number: 08456 529 530. Our Team will be happy to help you.
OR
You can contact Quantum Tuning Certified Dealer located near by you
OR
Click Chevrolet Epica Remap to buy the remap package.
About EGR REMOVAL:
Removal of the EGR system by banking off the exhaust input and reprogramming of the engine managment ECU results in lowered engine temperatures, improved throttle response and economy and also can lengthen engine life by reducing oil contamination and carbon deposits.