Dodge Nitro Remap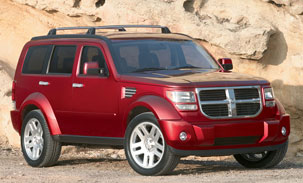 The Dodge Nitro is a compact SUV from the Dodge division of Chrysler. Launched for the 2007 model year, the Nitro shares its platform with the second generation Jeep Liberty. It was assembled at the Toledo North Assembly Plant in Toledo, Ohio. The Jeep facility is part of an automobile complex which includes the Toledo South Assembly Plant, home to the Jeep Wrangler since the 1940s. The Nitro made its debut in February 2005 at the Chicago Auto Show, as a concept car featuring an aluminum themed interior design. Aluminum-trimmed vents behind the front fenders, and other aluminum trim around the door handles and rear hatch, were routinely displayed as the center stack and shifter also included a finish in satin silver.
If you are in hunt to gain more power, torque and better MPG for your Dodge Nitro Car? Then look no further.
After your ECU upgrade to your Dodge Nitro, you will enjoy:
Increased horsepower | Increased torque | Better throttle response
Smoother power delivery | Improved fuel economy | Safer overtaking
Our Dodge Nitro diesel performance chips and Dodge Nitro remapping via the OBD port will dramatically improve your cars performance and improve your MPG!
Performance Result For Dodge Nitro
| | | | | | | |
| --- | --- | --- | --- | --- | --- | --- |
| Model | Original BHP | Tuned BHP | BHP + | Original Nm | Tuned Nm | Nm + |
| 2.8 CRD | 174 | 204 | 17.00% | 409 | 470 | 15.000% |
[Note: Nm = Newton metre and BHP = Brake Horse Power]
You can call us on our Business number: 08456 529 530. Our Team will be happy to help you.
OR
You can contact Quantum Tuning Certified Dealer located near by you
OR
Click Dodge Nitro Remap to buy the remap package.
About EDC16:
The new Electronic Diesel Control EDC 16 engine management system from Bosch has its debut in the V10-TDI- and R5-TDI-engines. Bosch EDC 16 engine management system is designed to be compatible as both a single and double control unit concept. The actual concept used depends on the number of cylinders in the engine.