Ferrari 360 Remap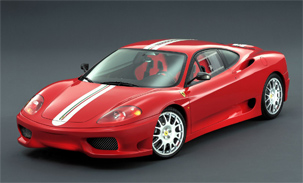 The Ferrari 360 is a two-seater sports car built by Ferrari from 1999 to 2005. It succeeded the Ferrari F355 and was replaced by the Ferrari F430. It is a mid-engined, rear wheel drive V8-powered coupe.
Ferrari partnered with Alcoa to produce an entirely new all aluminum space-frame chassis that was 40% stiffer than the F355 which had utilized steel. The design was 28% lighter despite a 10% increase in overall dimensions. Along with a lightweight frame the new Pininfarina body styling deviated from traditions of the previous decade's sharp angles and flip-up headlights. The new V8 engine, common to all versions, utilizes a 3.6 litre capacity, flat plane crankshaft, titanium connecting rods and generates 400 bhp (300 kW). Despite what looks like on paper modest gains in reality the power to weight ratio was significantly improved on over the F355, this was due to the combination of both a lighter car and more power. The 0 to 100 km/h (62 mph) acceleration performance improved from 4.6 to 4.3 seconds.
So if you are in hunt to gain more power, torque and better MPG for your Ferrari 360 Car? Then look no further.
After your ECU upgrade to your Ferrari 360, you will enjoy:
Our Ferrari 360 diesel performance chips and Ferrari 360 remapping via the OBD port will dramatically improve your cars performance and improve your MPG!
Every vehicle we do is Custom Remapped, nothing less will do
Every vehicle we do carries a Lifetime Warranty on the software
Every vehicle we do carries a no-quibble 30-Day Money Back Guarantee
Performance Result For Ferrari 360
| | | | | | | |
| --- | --- | --- | --- | --- | --- | --- |
| Model | Original BHP | Tuned BHP | BHP + | Original Nm | Tuned Nm | Nm + |
| Modena 3600 V8 | 400 | 438 | 10.00% | 420 | 480 | 14.000% |
[Note: Nm = Newton metre and BHP = Brake Horse Power]
You can call us on our Business number: 08456 529 530. Our Team will be happy to help you.
OR
You can contact Quantum Tuning Certified Dealer located near by you
OR
Click Ferrari 360 Remap to buy your remap package online and save 5%.
About EGR REMOVAL:
Removal of the EGR system by banking off the exhaust input and reprogramming of the engine managment ECU results in lowered engine temperatures, improved throttle response and economy and also can lengthen engine life by reducing oil contamination and carbon deposits.