Ford US F-250 Remap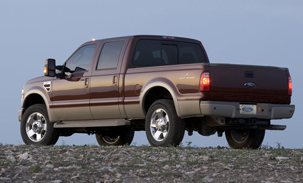 For the 1999 model year, Ford shifted the F-250 and F-350 truck lines to a design mechanically and cosmetically distinct from that of the F-150. The F-350 was not available for 1998, while the F-250 was available that year with the F-150's body. By using two separate but related platforms for F-Series trucks, the inevitable compromises inherent in offering a wide range of load-carrying capacities were avoided. The main competition, General Motors, followed suit for the 2001 model year, when the Chevrolet Silverado HD and GMC Sierra HD were introduced.
These trucks were styled distinctly different for the first time from the smaller F-150 half-ton pickups. They did not share components with the F-150 platform at all (except V-8 gas engines, interior components, and cargo bed on earlier generations), even though it was still considered an F-series truck. The front was more boldly angular with a raised hood, somewhat similar to the Dodge Ram. As an industry first, 2 large complete ring-style front tow hooks were included. The side windows went lower forward in the door like a commercial medium to heavy duty truck (similar to a Kenworth "Daylight Door"), and the grille was also narrower and taller as if from a larger truck, and in 1999, optional manual telescoping Trailer Tow (TT) mirrors became available.
If you want to gain more power, torque and better MPG for your Ford US F-250 Car? Then look no further.
Our Ford US diesel performance chips and Ford US remapping via the OBD port will dramatically improve your Car performance and improve your MPG!
Every vehicle we do is Custom Remapped, nothing less will do
Every vehicle we do carries a Lifetime Warranty on the software
Every vehicle we do carries a no-quibble 30-Day Money Back Guarantee
After your ECU upgrade to your Ford US F-250, you will enjoy:
Performance Result For Ford US F-250
| | | | | |
| --- | --- | --- | --- | --- |
| Model | Original BHP | Tuned BHP | Original Nm | Tuned Nm |
| 5400 V8 | 300 | 320 | 495 | 515 |
| 6800 V10 | 362 | 382 | 620 | 640 |
| 6400 TD | 350 | 380 | 881 | 970 |
[Note: Nm = Newton metre and BHP = Brake Horse Power]
You can call us on our Business number: 08456 529 530. Our Team will be happy to help you.
OR
You can contact Quantum Tuning Certified Dealer located near by you
OR
Buy Your Ford US F-250 Remap Online and Save 5% from retail price.
About: EGR REMOVAL
Removal of the EGR system by banking off the exhaust input and reprogramming of the engine managment ECU results in lowered engine temperatures, improved throttle response and economy and also can lengthen engine life by reducing oil contamination and carbon deposits.