Great Wall Motors X200 Remap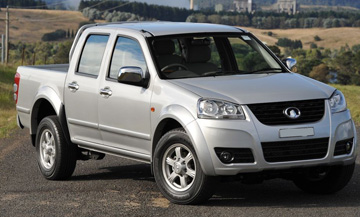 Great Wall is about to tick over 20,000 sales in this country, many of which were the X200/240 SUV. It sells on price but now there's more to recommend the medium-size Chinese SUV.
The X200 is built on the same ladder chassis as Great Wall's X240/200 ute – but you wouldn't know driving down the road. The SUV has a much more compliant ride, lower noise levels and better feel than the ute.
The steering isn't quite where it should be and flooring the accelerator off the line causes some lag it's best to squeeze it from a standstill. The engine isn't as refined as some but won't annoy once you are up and running.
While the interior isn't as slick as the competition, it's functional and the dash controls are easy to use. There's a good size (expandable) load space and a full size spare under the floor.
We like the look of the new X200 better than gen' one and nearly comparable with something with a Japanese build plate. Like the V200 diesel ute we drove a couple of weeks ago, this new Great Wall is a big step up the ladder in many respects when compared with earlier vehicles.
If you want to gain more power, torque and better MPG for your Great Wall Motors X200 Car? Then look no further.
Our Great Wall Motors X200 diesel performance chips and Great Wall Motors X200 remapping via the OBD port will dramatically improve your Car performance and improve your MPG!
Every vehicle we do is Custom Remapped, nothing less will do
Every vehicle we do carries a Lifetime Warranty on the software
Every vehicle we do carries a no-quibble 30-Day Money Back Guarantee
After your ECU upgrade to your Great Wall Motors X200, you will enjoy:
Performance Result For Great Wall Motors X200
| | | | | |
| --- | --- | --- | --- | --- |
| Model | Original BHP | Tuned BHP | Original Nm | Tuned Nm |
| 2000 TDI | 150 | 175 | 310 | 365 |
[Note: Nm = Newton metre and BHP = Brake Horse Power]
You can call us on our Business number: 08456 529 530. Our Team will be happy to help you.
OR
You can contact Quantum Tuning Certified Dealer located near by you
OR
Buy Your Great Wall Motors X200 Remap Online and Save 5% from retail price.
About: EGR REMOVAL
Removal of the EGR system by banking off the exhaust input and reprogramming of the engine management ECU results in lowered engine temperatures, improved throttle response and economy and also can lengthen engine life by reducing oil contamination and carbon deposits.