Hyundai H1 Remap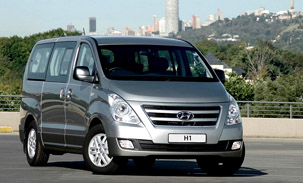 Hyundai H-1 is a name used by Hyundai Motor Company in European export markets for three related models:
The H1 multicab provides seating for six, including the driver. Behind the second bench is a 2 500 l cargo hold that has the capacity to transport a small motor bike, a couple of bales of horse fodder and a saddle or two.
The vehicle is available with a manual transmission and 2.4 Theta petrol engine, or automatic transmission and 2.5 VGTi turbodiesel engine.
The 2.4 Theta petrol engine produces 126 kW of power at 6 000 rpm and 227 Nm torque at 4 200 rpm, accelerating from 0 to 100 km/h in 17.9 seconds. Carbon dioxide (CO2) emissions have been measured at 240 g/km, with fuel consumption of 10.2 l/100 km in a mixed cycle.
The 2.5 VGTi turbodiesel produces 125 kW at 3 800 rpm and 392 Nm torque at 2 000 rpm. Top speed is 180 km/h, and it takes 14.9 seconds to accelerate from 0 to 100 km/h. CO2 emissions are 257 g/km and fuel consumption 9.7 l/100 km in a combined test cycle of city and open road driving.
If you want to gain more power, torque and better MPG for your Hyundai H1 Car? Then look no further.
Our Hyundai H1 diesel performance chips and Hyundai H1 remapping via the OBD port will dramatically improve your Car performance and improve your MPG!
Every vehicle we do is Custom Remapped, nothing less will do
Every vehicle we do carries a Lifetime Warranty on the software
Every vehicle we do carries a no-quibble 30-Day Money Back Guarantee
After your ECU upgrade to your Hyundai H1, you will enjoy:
Performance Result For Hyundai H1
| | | | | |
| --- | --- | --- | --- | --- |
| Model | Original BHP | Tuned BHP | Original Nm | Tuned Nm |
| 2500 CRDi – 136 | 136 | 160 | 343 | 410 |
| 2500 CRDi – 170 | 170 | 200 | 392 | 452 |
[Note: Nm = Newton metre and BHP = Brake Horse Power]
You can call us on our Business number: 08456 529 530. Our Team will be happy to help you.
OR
You can contact Quantum Tuning Certified Dealer located near by you
OR
Buy Your Hyundai H1 Remap Online and Save 5% from retail price.
About: EGR REMOVAL
Removal of the EGR system by banking off the exhaust input and reprogramming of the engine managment ECU results in lowered engine temperatures, improved throttle response and economy and also can lengthen engine life by reducing oil contamination and carbon deposits.