Hyundai ix35 Remap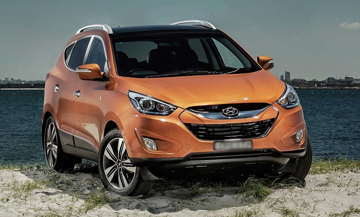 In most markets outside Korea, Hyundai ix35 (also called 'Hyundai Tucson ix' in the Korean market) replaced Hyundai Tucson name. The ix35 was unveiled in 2009 Frankfurt Motor Show. The power output, fuel-efficiency, comfort and safety features have been all upgraded. Known by the project name LM, it took 36 months and 280 billion won (approx. US$225 million) to develop. Saeki Yoshikazu, Toyota engineer, who is a chief engineer of Toyota RAV4 said, "I test drove Tucson ix. Even I think Tucson ix is a very good vehicle. It is a very stylish, too." The ix35's styling was reported to be based on Hyundai ix-onic concept. The ix35 was penned by former BMW designer Thomas Buerkle at Hyundai's Russelsheim design studio in Germany and continues the company's styling language, marketed as "fluidic sculpture".The compact sports utility vehicle has sweeping coupe-like lines, a premium vehicle feel and comes with features unavailable on its predecessor.
If you want to gain more power, torque and better MPG for your Hyundai ix35 Car? Then look no further.
After your ECU upgrade to your Hyundai ix35, you will enjoy:
Our Hyundai ix35 diesel performance chips and Hyundai ix35 remapping via the OBD port will dramatically improve your Car performance and improve your MPG!
Every vehicle we do is Custom Remapped, nothing less will do
Every vehicle we do carries a Lifetime Warranty on the software
Every vehicle we do carries a no-quibble 30-Day Money Back Guarantee
Performance Result for Hyundai IX35
| | | | | |
| --- | --- | --- | --- | --- |
| Model | Original BHP | Tuned BHP | Original Nm | Tuned Nm |
| 2.0 CRDI | 134 | 165 | 320 | 380 |
[Note: Nm = Newton metre and BHP = Brake Horse Power]
You can call us on our Business number: 08456 529 530. Our Team will be happy to help you.
OR
You can contact Quantum Tuning Certified Dealer located near by you
OR
Buy Your Hyundai ix35 Remap Online and Save 5% from retail price.
About: BOSCH EDC 15
Bosch Hdi EDC 15 consists of an ECU which analyses the information from the various Sensors, and then operates the injectors at the correct moment. It also controls a Pressure regulator, the exhaust gas recycling electro valve and the turbo charging Pressure modulating electro valve.