Mazda 5 Remap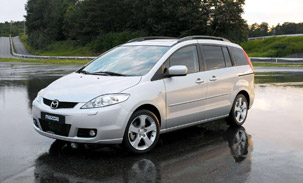 The Mazda Premacy is a compact MPV built by the Japanese manufacturer Mazda since 1999 and now in its third generation.
The first generation Premacy was built in Japan and exported to Europe and Asia. A re-badged version was sold by Ford in a few Asian markets (including Japan) as the Ford Ixion or Ford MAV.
The second generation is sold outside Japan as the Mazda5. Ford Lio Ho in Taiwan, which assembles Mazda5 for the local market, adapted a re-badged version as the Ford i-MAX in 2007.
The first generation Premacy was a two- or three-row, five- or seven-passenger vehicle, while the second generation adds a third row of seats for up to six passengers in American form, and seven passengers outside the United States. Both generations feature near-flat floors, folding or removable second row, and fold-flat rear seats.
If you want to gain more power, torque and better MPG for your Mazda 5 Car? Then look no further.
Our Mazda diesel performance chips and Mazda remapping via the OBD port will dramatically improve your Car performance and improve your MPG!
Every vehicle we do is Custom Remapped, nothing less will do
Every vehicle we do carries a Lifetime Warranty on the software
Every vehicle we do carries a no-quibble 30-Day Money Back Guarantee
After your ECU upgrade to your Mazda 5, you will enjoy:
Performance Result For Mazda 5
| | | | | |
| --- | --- | --- | --- | --- |
| Model | Original BHP | Tuned BHP | Original Nm | Tuned Nm |
| 1.6d – 2010 onwards | 113 | 136 | 270 | 330 |
| 2.0d – 110 | 110 | 139 | 310 | 390 |
| 2.0d – 140 | 140 | 165 | 360 | 415 |
[Note: Nm = Newton metre and BHP = Brake Horse Power]
You can call us on our Business number: 08456 529 530. Our Team will be happy to help you.
OR
You can contact Quantum Tuning Certified Dealer located near by you
OR
Buy Your Mazda 5 Remap Online and Save 5% from retail price.
About: DPF REMOVAL
Quantum Tuning have decided to invest heavily in the most advanced DPF removal software, thereby improving the quality of the DPF remaps and also offer a wider range of vehicles available to have DPF removal software applied. This is the most sophisticated solution on the market and none of your competitors can offer better.