Mitsubishi Shogun Sport Remap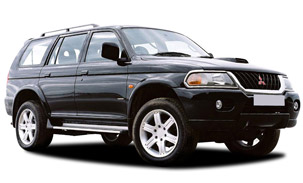 Production began in Japan in 1996, and was available for most export markets by 1997, where it was variously known as the Challenger,Pajero Sport in Europe, Montero Sport in North America, South America and The Philippines, Nativa in parts of Central America and the Middle East, Shogun Sport in the United Kingdom, and G-Wagon in Thailand. The first generation Challenger was built on the second generation Pajero wheelbase. Like the Pajero, it featured independent front suspension with torsion bars and a live rear axle. In addition to numerous face lifts over the years, there was a major suspension change from rear leaf to coil springs in late 2000. As its popularity increased, local assembly for foreign markets was introduced in China in 2003, and Brazil in 2006. Sales were discontinued in Japan in 2003, in North America in 2004 (where it was superseded by the Endeavor), and central and western Europe in 2008. In Japan, it was sold at a specific retail chain called Car Plaza. The 3-liter V6 is the most commonly used engine; it produces 188 hp (140 kW; 191 PS) at 5,000 rpm.
If you want to gain more power, torque and better MPG for your Mitsubishi Shogun Sport Car? Then look no further.
Our Mitsubishi diesel performance chips and Mitsubishi remapping via the OBD port will dramatically improve your Car performance and improve your MPG!
Every vehicle we do is Custom Remapped, nothing less will do
Every vehicle we do carries a Lifetime Warranty on the software
Every vehicle we do carries a no-quibble 30-Day Money Back Guarantee
After your ECU upgrade to your Mitsubishi Shogun Sport, you will enjoy:
Performance Result For Mitsubishi Shogun Sport
| | | | | |
| --- | --- | --- | --- | --- |
| Model | Original BHP | Tuned BHP | Original Nm | Tuned Nm |
| 3.2 DI-D 158 2000 onwards | 158 | 191 | 373 | 465 |
| 3.2 DI-D 162 2000-2001 | 162 | 191 | 373 | 465 |
| 3.2 DI-D 168 2007 onwards | 168 | 199 | 381 | 478 |
| 3.2 DI-D 200 2007 onwards | 200 | 234 | 441 | 530 |
[Note: Nm = Newton metre and BHP = Brake Horse Power]
You can call us on our Business number: 08456 529 530. Our Team will be happy to help you.
OR
You can contact Quantum Tuning Certified Dealer located near by you
OR
Buy Your Mitsubushi Shogun Sport Remap Online and Save 5% from retail price.
About: EGR REMOVAL
Removal of the EGR system by banking off the exhaust input and reprogramming of the engine managment ECU results in lowered engine temperatures, improved throttle response and economy and also can lengthen engine life by reducing oil contamination and carbon deposits.