Nissan Murano Remap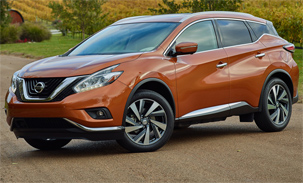 The Nissan Murano is a mid-size crossover SUV first sold by Nissan in December 2002 as a 2003 model. Nissan introduced the Murano as its first crossover SUV for the United States and Canada. Initially designed at Nissan America in La Jolla, California, the first generation Murano was based on the Nissan FF-L platform first used by the third generation Altima. The European version of the Murano began sales in 2004 and is available only in one version.
The Murano was Nissan's only crossover SUV in the U.S. until September 2007 when the new 2008 Nissan Rogue went on sale. In Canada the X-Trail had been on sale as Nissan's second car-based SUV since 2004 as a 2005 model; it was replaced by the new 2008 Nissan Roguein late 2007. The Murano is sized between the Xterra and the Pathfinder, but is priced slightly higher than the Nissan Pathfinder.
The Murano was nominated for the North American Truck of the Year award for 2003. It was also named the best premium mid-size SUV by AutoPacific.
The name Murano comes from a region of Venice, Italy which is known for the hand blown glass produced there.
If you want to gain more power, torque and better MPG for your Nissan Murano Car? Then look no further.
Our Nissan diesel performance chips and Nissan remapping via the OBD port will dramatically improve your Car performance and improve your MPG!
Every vehicle we do is Custom Remapped, nothing less will do
Every vehicle we do carries a Lifetime Warranty on the software
Every vehicle we do carries a no-quibble 30-Day Money Back Guarantee
After your ECU upgrade to your Nissan Murano, you will enjoy:
Performance Result For Nissan Murano
| | | | | |
| --- | --- | --- | --- | --- |
| Model | Original BHP | Tuned BHP | Original Nm | Tuned Nm |
| 2.5 DCi 187 2010 onwards | 187 | 218 | 450 | 530 |
[Note: Nm = Newton metre and BHP = Brake Horse Power]
You can call us on our Business number: 08456 529 530. Our Team will be happy to help you.
OR
You can contact Quantum Tuning Certified Dealer located near by you
OR
Buy Your Nissan Murano Remap Online and Save 5% from retail price.
About: Bosch EDC 16
The new Electronic Diesel Control EDC 16 engine management system from Bosch has its debut in the V10-TDI- and R5-TDI-engines. Bosch EDC 16 engine management system is designed to be compatible as both a single and double control unit concept. The actual concept used depends on the number of cylinders in the engine.