Nissan Patrol Remap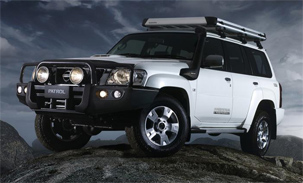 The Nissan Patrol is a four-wheel drive vehicle manufactured by Nissan in Japan since 1951.
The Patrol has been available as either a short-wheelbase (SWB) three-door or a long-wheelbase (LWB) five-door chassis. The LWB version has also been offered in utility and cab chassis variants alongside the wagon. Between 1988 and 1994, Ford Australia marketed the Patrol as the Ford Maverick. The Maverick was available alongside the Nissan-branded Patrol. Also, in some European countries the Patrol was, for a short while marketed as Ebro Patrol. Since 1980, in Japan, it has been known as the Nissan Safari . The Patrol is available in Australasia, Central and South America, South Africa, parts of Southeast Asia and Western Europe as well as Iran and the Middle East but not in the USA and North America. In 2010, it became available in North America as the upscale 2011 Infiniti QX56, which had shared the same platform as the US-built Nissan Armada from 2004 to 2010.
The Patrol was always regarded as a tough 4×4 in Australia and New Zealand, Middle East, Europe, Japan, and the Caribbean. The second generation Y60 (GQ) platform is still manufactured as a military vehicle in the countries of Asia and the Middle East, and various versions of the Patrol are widely used by United Nations agencies. These Y61 models are produced alongside the current Y62. The fourth and fifth generations are the main troop transport vehicles used by the Irish Army.
If you want to gain more power, torque and better MPG for your Nissan Patrol Car? Then look no further.
Our Nissan diesel performance chips and Nissan remapping via the OBD port will dramatically improve your Car performance and improve your MPG!
Every vehicle we do is Custom Remapped, nothing less will do
Every vehicle we do carries a Lifetime Warranty on the software
Every vehicle we do carries a no-quibble 30-Day Money Back Guarantee
After your ECU upgrade to your Nissan Patrol, you will enjoy:
Performance Result For Nissan Patrol
| | | | | |
| --- | --- | --- | --- | --- |
| Model | Original BHP | Tuned BHP | Original Nm | Tuned Nm |
| 3.0 DI | 158 | 188 | 354 | 410 |
[Note: Nm = Newton metre and BHP = Brake Horse Power]
You can call us on our Business number: 08456 529 530. Our Team will be happy to help you.
OR
You can contact Quantum Tuning Certified Dealer located near by you
OR
Buy Your Nissan Patrol Remap Online and Save 5% from retail price.
About: DPF REMOVAL
Quantum Tuning have decided to invest heavily in the most advanced DPF solution software, thereby improving the quality of the DPF remaps and also offer a wider range of vehicles available to have DPF solution software applied. This is the most sophisticated solution on the market and none of your competitors can offer better.