Nissan Terrano II Remap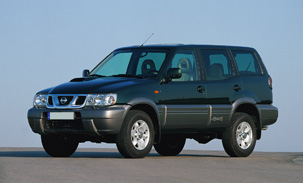 The Nissan Terrano II (Known as the Nissan Mistral in some markets) is a mid size SUV manufactured by the Japanese automaker Nissan. It was also made by Nissan's Spanish subsidiary Nissan Motor Ibérica S.A. for the European market, where it was marketed as Nissan Terrano II, and also supplied under an OEM agreement to Ford Europe for sale as Ford Maverick on the continent. First launched in 1993 and discontinued only in 2006, the model enjoyed long market life in just one generation, with its basic form unchanged, albeit having been significantly updated throughout its lifetime. Nissan's internal designation for this model was R20.
The R20 was based on the WD21 Nissan Terrano platform, and came in two body styles differing in wheelbase—a shorter three-door and longer five-door model. For the British market chiefly, a panel van version of the three-door was also made. The vehicle's body, tall compared to most competitors and providing for high ground clearance, was designed by the Italian I.DE.A Institute.
Production of the R20 started in Spain in February 1993 and the Terrano II went on sale in Europe in May that year. The Mistral was launched in Japan in June 1994, at first available in the five-door version only – the three-door Mistral joined in 1995. In 1996, the car was facelifted, gaining round headlights.
If you want to gain more power, torque and better MPG for your Nissan Terrano II Car? Then look no further.
After your ECU upgrade to your Nissan Terrano II, you will enjoy:
Our Nissan diesel performance chips and Nissan remapping via the OBD port will dramatically improve your Car performance and improve your MPG!
Every vehicle we do is Custom Remapped, nothing less will do
Every vehicle we do carries a Lifetime Warranty on the software
Every vehicle we do carries a no-quibble 30-Day Money Back Guarantee
Performance Result For Nissan Terrano II
| | | | | |
| --- | --- | --- | --- | --- |
| Model | Original BHP | Tuned BHP | Original Nm | Tuned Nm |
| 2.7 TDI | 123 | 153 | 278 | 354 |
[Note: Nm = Newton metre and BHP = Brake Horse Power]
You can call us on our Business number: 08456 529 530. Our Team will be happy to help you.
OR
You can contact Quantum Tuning Certified Dealer located near by you
OR
Buy Your Nissan Terrano II Remap Online and Save 5% from retail price.
About: Bosch EDC 16
The new Electronic Diesel Control EDC 16 engine management system from Bosch has its debut in the V10-TDI- and R5-TDI-engines. Bosch EDC 16 engine management system is designed to be compatible as both a single and double control unit concept. The actual concept used depends on the number of cylinders in the engine.