Peugeot 107 Remap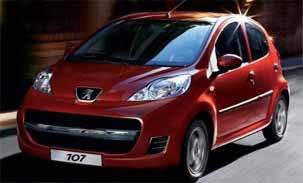 The Peugeot 107 is a city car produced by French automaker Peugeot and launched in June 2005.

The 107 was developed by the B-Zero project of PSA Peugeot Citroën in a joint-venture with Toyota; the Citroën C1 and Toyota Aygo are badge engineered versions of the same car, although the Aygo has more detail differences than the C1. All three are built at the new facilities of the Toyota Peugeot Citroën Automobile Czech joint-venture in the city of Kolin, Czech Republic. It is a four-seater available as a three- or five-door hatchback. The 107 replaces the 106, which ceased production at the end of 2003 after 12 years.
The rear view of the Peugeot 107 shows the tail light clusters it shares with the Citroën C1, but not with the Toyota Aygo.
In January 2010, PSA Peugeot Citroën announced that it is recalling "under 100,000 units" of the 107 and the Citroën C1, following the worldwide recall by Toyota for a faulty sticking accelerator pedal – in which the Aygo is affected. Under certain circumstances, the pedal can stick in a partially depressed position, or return slowly to the off position.
If you want to gain more power, torque and better MPG for your Peugeot 107 Car? Then look no further.
After your ECU upgrade to your Peugeot 107, you will enjoy:
Our Peugeot diesel performance chips and Peugeot remapping via the OBD port will dramatically improve your Car performance and improve your MPG!
Every vehicle we do is Custom Remapped, nothing less will do
Every vehicle we do carries a Lifetime Warranty on the software
Every vehicle we do carries a no-quibble 30-Day Money Back Guarantee
Performance Result For Peugeot 107
| | | | | |
| --- | --- | --- | --- | --- |
| Model | Original BHP | Tuned BHP | Original Nm | Tuned Nm |
| 1.0i 16v | 68 | 71 | 93 | 99 |
| 1.4 HDI | 54 | 75 | 130 | 179 |
[Note: Nm = Newton metre and BHP = Brake Horse Power]
You can call us on our Business number: 08456 529 530. Our Team will be happy to help you.
OR
You can contact Quantum Tuning Certified Dealer located near by you
OR
Buy Your Peugeot 107 Remap Online and Save 5% from retail price.
About: DPF REMOVAL
Quantum Tuning have decided to invest heavily in the most advanced DPF removal software, thereby improving the quality of the DPF remaps and also offer a wider range of vehicles available to have DPF removal software applied. This is the most sophisticated solution on the market and none of your competitors can offer better.