Peugeot Bipper MPV Remap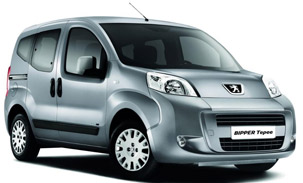 The Peugeot Bipper is a small delivery van sold by French automaker Peugeot since May 2008. It shares its body, platform and most components with the same generations of the Citroën Nemo and Fiat Fiorino.
The Citroën Nemo, Fiat Fiorino III and Peugeot Bipper were developed jointly with Tofaş following a cooperation agreement signed on 31 March 2005. The vans are manufactured on behalf of all the partners in Bursa by Tofaş.
The claim is advanced that the Bipper a "mini-cargovan" designed for big and small cities, cheaper and a little smaller than the Peugeot Partner. It is asserted that the little van is easy to park, handy for deliveries, and faster than competitor vehicles.
If you want to gain more power, torque and better MPG for your Peugeot Bipper MPV Car? Then look no further.
Our Peugeot diesel performance chips and Peugeot remapping via the OBD port will dramatically improve your Car performance and improve your MPG!
Every vehicle we do is Custom Remapped, nothing less will do
Every vehicle we do carries a Lifetime Warranty on the software
Every vehicle we do carries a no-quibble 30-Day Money Back Guarantee
After your ECU upgrade to your Peugeot Bipper MPV, you will enjoy:
Performance Result For Peugeot Bipper MPV
| | | | | |
| --- | --- | --- | --- | --- |
| Model | Original BHP | Tuned BHP | Original Nm | Tuned Nm |
| 1.4 HDI | 70 | 93 | 160 | 210 |
[Note: Nm = Newton metre and BHP = Brake Horse Power]
You can call us on our Business number: 08456 529 530. Our Team will be happy to help you.
OR
You can contact Quantum Tuning Certified Dealer located near by you
OR
Buy Your Peugeot Bipper MPV Remap Online and Save 5% from retail price.
About: Bosch EDC 16
The new Electronic Diesel Control EDC 16 engine management system from Bosch has its debut in the V10-TDI- and R5-TDI-engines. Bosch EDC 16 engine management system is designed to be compatible as both a single and double control unit concept. The actual concept used depends on the number of cylinders in the engine.