Renault Vel Satis Remap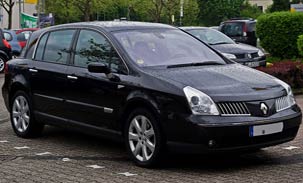 The Renault Vel Satis was an executive car produced by the French manufacturer Renault, launched at the 2001 Geneva Motorshow to replace the already-discontinued Safrane. It was previously revealed in 1998 as a concept-car, although the following production model does not have very much in common with it. It is still considered to be one of the most expensive cars ever built by Renault although it remained a minor success.
The name Vel Satis is a composite of elements of the words Velocity and Satisfaction. A specially prepared Vel Satis was used by the President of France until 2009. The car is also Renault's flagship car.
If you want to gain more power, torque and better MPG for your Renault Vel Satis Car? Then look no further.
After your ECU upgrade to your Renault Vel Satis, you will enjoy:
Our Renault diesel performance chips and Renault remapping via the OBD port will dramatically improve your Car performance and improve your MPG!
Every vehicle we do is Custom Remapped, nothing less will do
Every vehicle we do carries a Lifetime Warranty on the software
Every vehicle we do carries a no-quibble 30-Day Money Back Guarantee
Performance Result Renault Vel Satis
| | | | | |
| --- | --- | --- | --- | --- |
| Model | Original BHP | Tuned BHP | Original Nm | Tuned Nm |
| 2.2 DCI | 150 | 176 | 320 | 380 |
[Note: Nm = Newton metre and BHP = Brake Horse Power]
You can call us on our Business number: 08456 529 530. Our Team will be happy to help you.
OR
You can contact Quantum Tuning Certified Dealer located near by you
OR
Buy Your Renault Vel Satis Remap Online and Save 5% from retail price.
About: BOSCH EDC 15
Bosch Hdi EDC 15 consists of an ECU which analyses the information from the various Sensors, and then operates the injectors at the correct moment. It also controls a Pressure regulator, the exhaust gas recycling electro valve and the turbo charging Pressure modulating electro valve.