Subaru Legacy Remap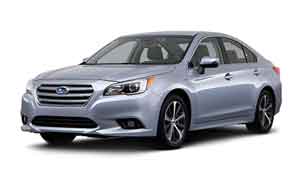 The Subaru Legacy is a mid-size car built by Japanese automobile manufacturer Subaru since 1989. Part of the original design goals for the Legacy model was to provide Subaru a vehicle in which they could compete in the lucrative North American midsize market against competitors Honda Accord and Toyota Camry. Higher performance variants of the Legacy are offered as competitive alternatives to compact executive cars such as the Audi A4, Alfa Romeo 159 and BMW 3 Series. The Legacy also serves as Subaru's flagship car.
In 1996, a variant of the Legacy with heightened suspension called the Legacy Outback was introduced to compete in the burgeoning sport-utility vehicle class and proved to be a sales success for Subaru. The Outback line was split into its own model in 2000, known as the Subaru Outback.
It is unique in its class for offering all wheel drive as a standard feature, and Subaru's traditional boxer engine. The Legacy bears the nameLiberty in Australia out of deference for Legacy Australia, a veterans' assistance organization. As of 2008, 3.6 million Legacies have been built since its 1989 introduction.
If you want to gain more power, torque and better MPG for your Subaru Legacy Car? Then look no further.
Our Subaru diesel performance chips and Subaru remapping via the OBD port will dramatically improve your Car performance and improve your MPG!
Every vehicle we do is Custom Remapped, nothing less will do
Every vehicle we do carries a Lifetime Warranty on the software
Every vehicle we do carries a no-quibble 30-Day Money Back Guarantee
After your ECU upgrade to your Subaru Legacy, you will enjoy:
Performance Result For Subaru Legacy
| | | | | |
| --- | --- | --- | --- | --- |
| Model | Original BHP | Tuned BHP | Original Nm | Tuned Nm |
| 2.0 D – 2009 onwards | 144 | 172 | 350 | 435 |
[Note: Nm = Newton metre and BHP = Brake Horse Power]
You can call us on our Business number: 08456 529 530. Our Team will be happy to help you.
OR
You can contact Quantum Tuning Certified Dealer located near by you
OR
Buy Your Subaru Legacy Remap Online and Save 5% from retail price.
About: DPF REMOVAL
Quantum Tuning have decided to invest heavily in the most advanced DPF removal software, thereby improving the quality of the DPF remaps and also offer a wider range of vehicles available to have DPF removal software applied. This is the most sophisticated solution on the market and none of your competitors can offer better.