Toyota Aygo Remap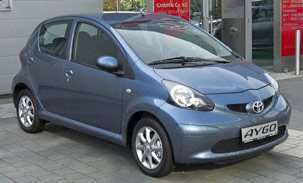 The Toyota Aygo is a city car sold by Toyota in Europe since 2005. All Aygos are built at the new factory of the Toyota Peugeot Citroën Automobile Czech (TPCA) joint venture in Kolin, Czech Republic. The Aygo was first displayed at the 2005 Salon de l'Automobile de Genève. The name "Aygo" comes from "i-go", symbolising freedom and mobility.

The decision to produce the cars was made on July 12, 2001, when the presidents of Toyota and PSA Peugeot Citroën, Fujio Cho and Jean-Martin Folz respectively, decided to produce a small car to share development costs. This project was called B-Zero. The Peugeot 107 and Citroën C1 are rebadged versions of the same car.
The Aygo's starting on-the-road price is €8,500 (GB£6,845). The main difference between the Aygo and its siblings is in the interior equipment, badges, logos and the easily recognizable rear end of the car. The planned production is 300,000 cars annually – 100,000 cars per brand. Sales began in July 2005 and the car is available as a three or five-door hatchback. There are two engines available, a 1.0 L three-cylinder engine rated at 68 bhp (51 kW), and a 1.4 L HDi diesel I4 engine rated at 54 bhp (40 kW).
So if are in hunt to gain more power, torque and better MPG for your Toyota Aygo Car? Then look no further.
Our Toyota diesel performance chips and Toyota remapping via the OBD port will dramatically improve your Car performance and improve your MPG!
Every vehicle we do is Custom Remapped, nothing less will do
Every vehicle we do carries a Lifetime Warranty on the software
Every vehicle we do carries a no-quibble 30-Day Money Back Guarantee
After your ECU upgrade to your Toyota Aygo, you will enjoy:
Increased horsepower | Increased torque | Better throttle response
Smoother power delivery | Improved fuel economy | Safer overtaking
Performance Result For Toyota Aygo
| | | | | |
| --- | --- | --- | --- | --- |
| Model | Original BHP | Tuned BHP | Original Nm | Tuned Nm |
| 1.4 HDI | 55 | 76 | 130 | 180 |
[Note: Nm = Newton metre and BHP = Brake Horse Power]
You can call us on our Business number: 08456 529 530. Our Team will be happy to help you.
OR
You can contact Quantum Tuning Certified Dealer located near by you
OR
Buy Your Toyota Aygo Remap Online and Save 5% from retail price.
About: BOSCH EDC
Bosch Electronic Diesel Control ensures ideal diesel injection control at all engine operating points. It evaluates in real time sensor data on the temperatures of coolant, fuel and charge air as well as the momentary engine speed, the position of the accelerator pedal and the intake air mass. From these values the EDC calculates the best possible injection process and the correct amount of fuel to be injected.