Vauxhall Adam Remap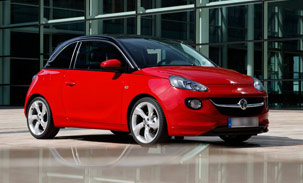 The Opel Adam is a city car engineered and produced by the German automaker Opel, named after the company's founder Adam Opel. The Adam is being sold as the Vauxhall Adam in the United Kingdom. It was launched at the 2012 Paris Motor Show, with sales starting in early 2013. An OPC/VXR version of the Adam is planned as well as a convertible variant. The Adam production began at the Eisenach plant in Germany in January 2013. From 2014, the Adam will use a new family of direct-injected small displacement engines codeveloped by Opel and SAIC. The Adam is based on a shortened version of Corsa D platform – GM Fiat Small platform.
If you want to gain more power, torque and better MPG for your Vauxhall Adam Car? Then look no further.
Our Vauxhall diesel performance chips and Vauxhall remapping via the OBD port will dramatically improve your Car performance and improve your MPG!
Every vehicle we do is Custom Remapped, nothing less will do
Every vehicle we do carries a Lifetime Warranty on the software
Every vehicle we do carries a no-quibble 30-Day Money Back Guarantee
After your ECU upgrade to your Vauxhall Adam, you will enjoy:
Performance Result For Vauxhall Adam
| | | | | |
| --- | --- | --- | --- | --- |
| Model | Original BHP | Tuned BHP | Original Nm | Tuned Nm |
| 1.2 16v VVT | 70 | 70 | 115 | 115 |
| 1.4 16v VVT – 87 | 87 | 87 | 130 | 130 |
| 1.4 16v VVT – 100 | 100 | 100 | 130 | 130 |
[Note: Nm = Newton metre and BHP = Brake Horse Power]
You can call us on our Business number: 08456 529 530. Our Team will be happy to help you.
OR
You can contact Quantum Tuning Certified Dealer located near by you
OR
Buy Your Vauxhall Adam Remap Online and Save 5% from retail price.
About: EGR REMOVAL
Removal of the EGR system by banking off the exhaust input and reprogramming of the engine managment ECU results in lowered engine temperatures, improved throttle response and economy and also can lengthen engine life by reducing oil contamination and carbon deposits.