Vauxhall VX220 Remap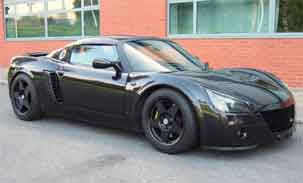 The Vauxhall VX220 is classed as a Roadster sports car which is produced by the British automobile manufacturing company Vauxhall Motors. This car is known as the Opel Speedster on continental Europe and was inn production from 2000 to 2005. This car was a joint venture with Lotus Cars, and shares much the same parts as the Lotus Elise. They are very stylish little sports cars which are really good performance vehicles. They are known for their excellent handling but also for being hard to get into the cabin and not being the most comfortable ride. Despite the lack of comfort, they do have an amazingly good driving position and are very affordable for such a stylish looking car.
If you want to gain more power, torque and better MPG for your Vauxhall VX220 Car? Then look no further.
After your ECU upgrade to your Vauxhall VX220, you will enjoy:
Our Vauxhall diesel performance chips and Vauxhall remapping via the OBD port will dramatically improve your Car performance and improve your MPG!
Every vehicle we do is Custom Remapped, nothing less will do
Every vehicle we do carries a Lifetime Warranty on the software
Every vehicle we do carries a no-quibble 30-Day Money Back Guarantee
Performance Result For Vauxhall VX220
| | | | | |
| --- | --- | --- | --- | --- |
| Model | Original BHP | Tuned BHP | Original Nm | Tuned Nm |
| 2.0 T 16V | 199 | 233 | 250 | 293 |
| 2.2 16v | 144 | 156 | 203 | 216 |
[Note: Nm = Newton metre and BHP = Brake Horse Power]
You can call us on our Business number: 08456 529 530. Our Team will be happy to help you.
OR
You can contact Quantum Tuning Certified Dealer located near by you
OR
Buy Your Vauxhall VX220 Remap Online and Save 5% from retail price.
About: BOSCH EDC
Bosch Electronic Diesel Control ensures ideal diesel injection control at all engine operating points. It evaluates in real time sensor data on the temperatures of coolant, fuel and charge air as well as the momentary engine speed, the position of the accelerator pedal and the intake air mass. From these values the EDC calculates the best possible injection process and the correct amount of fuel to be injected.