Volkswagen Beetle Remap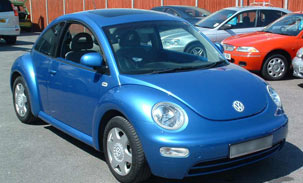 The Volkswagen Beetle, officially called the Volkswagen Type 1 (or informally the Volkswagen Bug), is an economy car produced by the German auto maker Volkswagen (VW) from 1938 until 2003. The car was dreamed up as a cheap simple car, and it was commissioned by Adolf Hitler and designed by Ferdinand Porsche. With over 21 million manufactured (21,529,464) in an air-cooled, rear-engined, rear-wheel drive configuration, the Beetle is the longest-running and most-manufactured car of a single design platform, worldwide.
Although designed in the 1930s, the Beetle was only produced in significant numbers from 1945 on when the model was internally designated the Volkswagen Type 1, and marketed simply as the "Volkswagen". Later models were designated VW 1200, 1300, 1500, 1302 or 1303, the former three indicating engine displacement and the latter two being derived from the type number and not indicative of engine capacity. The model became widely known in its home country as the Käfer (German for "beetle") and was later marketed as such in Germany, and as the Volkswagen Beetle in other countries.

In the 1950s, the Beetle was more comfortable and powerful than most European small cars, having been designed for sustained high speed on the Autobahn. It remained a top seller in the U.S., owing much of its success to high build-quality and innovative advertising, ultimately giving rise to variants, including the Volkswagen Karmann Ghia and the Volkswagen Type 2 bus.
The Beetle had marked a significant trend led by Volkswagen, Fiat, and Renault whereby the rear-engine, rear-wheel drive layout had increased from 2.6 percent of continental Western Europe's car production in 1946 to 26.6 percent in 1956. The 1948 Citroën 2CV and other European models marked a later trend to front-wheel drive in the European small car market, a trend that would come to dominate that market. In 1974, Volkswagen's own front-wheel drive Golf model succeeded the Beetle. In 1994, Volkswagen unveiled the Concept One, a "retro"-themed concept car with a resemblance to the original Beetle, and in 1998 introduced the "New Beetle", built on the Golf platform with styling recalling the original Type 1.
Want to gain more power, torque and better MPG for your Volkswagen Beetle Car? Then look no further.
Our Volkswagen diesel performance chips and Volkswagen remapping via the OBD port will dramatically improve your Car performance and improve your MPG!
Every vehicle we do is Custom Remapped, nothing less will do
Every vehicle we do carries a Lifetime Warranty on the software
Every vehicle we do carries a no-quibble 30-Day Money Back Guarantee
After your ECU upgrade to your Volkswagen Beetle, you will enjoy:
Increased horsepower | Increased torque | Better throttle response
Smoother power delivery | Improved fuel economy | Safer overtaking
Performance Result For Volkswagen Beetle
| | | | | |
| --- | --- | --- | --- | --- |
| Model | Original BHP | Tuned BHP | Original Nm | Tuned Nm |
| 1.4 16V | 75 | 82 | 126 | 136 |
| 1.8T 20V | 150 | 185 | 210 | 270 |
| 1.9 TDI | 90 | 116 | 210 | 265 |
| 1.9 TDI PD | 100 | 133 | 240 | 300 |
| 2.0 8V | 115 | 122 | 170 | 180 |
| 2.3 V5 | 170 | 180 | 225 | 238 |
[Note: Nm = Newton metre and BHP = Brake Horse Power]
You can call us on our Business number: 08456 529 530. Our Team will be happy to help you.
OR
You can contact Quantum Tuning Certified Dealer located near by you
OR
Buy Your Volkswagen Beetle Remap Online and Save 5% from retail price.
About: EGR REMOVAL
Removal of the EGR system by banking off the exhaust input and reprogramming of the engine management ECU results in lowered engine temperatures, improved throttle response and economy and also can lengthen engine life by reducing oil contamination and carbon deposits.