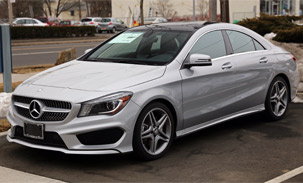 Life is too short to drive boring cars!!!
We had this Mercedes CLA 200 come in for the Quantum Tuning treatment, and boy do we not like to disappoint! 250 Horses and 400 Bulls under the A pedal after we were done with her 🙂
This was an especially interesting car to do thanks to some bean counters at Mercedes Benz .
The CLA 200 Internationally comes equipped with a 1.6L turbo petrol churning our 156 BHp and 230 Nm. The CLA 180, although mechanically identical to the CLA 200, only gets 122 BHp and 200 NM thanks to a DETUNE via SOFTWARE ONLY!
Pretty boring upto now right? Here is where things get interesting.
The Indian version of the CLA 200 sports a 2.0 Turbo engine, churning out 181 BHp and 300 NM at the crank.
This got us thinking and thanks to the curtomer who gave us the VIN and options list, we were able to confirm our suspicions that the car actually has a DETUNED version of the 211 BHp CLA 250
The CLA 200, C200 and GLA 200 all get a DETUNED 2.0 engine!
Now why would Mercedes do this? Probably because its cheaper to restrict an engine via software, than to sell the 1.6L in low numbers.
Whatever the reason, its great news for our customers as the gains on these engines are MASSIVE!
Mercedes CLA 200
Original HP
Original Nm
181
300
Tuned HP
Tuned Nm
250
400
HP Increase
Nm Increase
+69
+100
Why choose Quantum Tuning to remap your vehicle?
✅ India's ONLY IMI Certified Technicians
✅ 1000+ Dealers & 1000+ Installation Centres Worldwide
✅ 1000+ Cars tuned in India
✅ Over 100 5* Reviews on Google
✅ High Quality Remaps
✅ 10+ Years of experience
For more information:
Akshay Titus
Gt Tunerz (Authorised Quantum Tuning Dealer)
147 Mg Road, New Delhi
Delhi
India
110030
Tel: +919899943600
Mobile: +91 9899943600
Web: www.facebook.com/gttunerz
Dealer Site: newdelhi.quantumtuning.in