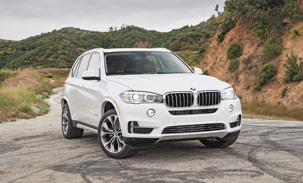 A few words about the "Quantum Blue" remapping of my 2008 BMW X5(E70) 3.0D carried out by Charlie Ford earlier this week. Firstly I was impressed by Charlie's concern to make sure he had the correct details about the car/engine by running a check through his laptop prior to changing anything. All the way through the exercise he was happy to talk me through what he was doing and answer any questions. From start to finish the whole process only took just over an hour.
After the remapping was done the car was taken on a quick test drive and it was immediately noticeable that the driveability was much improved. I didn't really get a chance to properly put the beast through its paces until a couple of days later but I have to say that when I did I was impressed. The power from this already torquey engine is now a lot more even throughout the rev range and the slight flat spots that were noticeable at gear changes have now gone. The engine generally seems to be more responsive on the throttle – overall a better driving experience.
It's difficult to tell whether fuel economy has improved as only a few days have passed since the remap and I'm still checking out the car's improved performance so my right foot pressure is probably a little heavier than usual. When I return to my "normal" driving style I reckon the MPG gauge will show a few extra miles to the gallon because, after just a few days, the consumption has certainly not increased. Could this be one of those rare win, win situations?
BMW – X5 – 3.0D 286
30 DAY MONEY BACK GUARANTEE
Original HP: 286 Original Nm: 580
Tuned HP: 326 Tuned Nm: 660
HP Increase: 40 Nm Increase: 80
% Increase: 14% % Increase: 14%
Get your car remap by certified quantum tuning dealer. For more information, please contact:
Automotive Remap
14A Peache Road, Dowend
Bristol
United Kingdom
BS16 5RW
Tel: 07767896339
Mobile: 07767896339
Most credit cards accepted
E-mail: quantumtuningbristol@yahoo.co.uk
Web: http://www.quantumtuningbristol.co.uk/
We also provide: DPF Removal, EGR Removal, OBD Remap, Diesel Remap, TDI Remap & TDCI Remap Services.