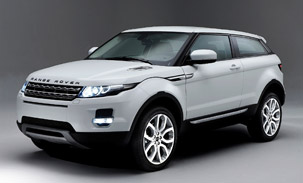 Special edition of the baby Rangie emerges, like a little bee, ahead of Brussels show…
This is the brand new Range Rover Evoque Limited Edition. And as you can see, it's quite yellow. And Black.
Land Rover is rather pleased at how well its little baby has wormed its way into the affections of you lot over the past year; more than 100,000 models have found homes. Not at all coincidentally, we made it our Car of the Year for 2011, so erm, you're welcome, world.
Anyway, this new Limited Edition is a paint-and-trim special, offering up the 'Sicilian Yellow' paint and black roof as seen above, or vice versa (black body, yellow roof). Think of it as a bumblebee; a bumblebee that gets contrast yellow stitching and an anodised yellow horizontal finisher for the inside too.
This new trim special also debuts the 'Black Design Pack' available independently from this bumblebee Edition from April. In it, you will find a rear sports spoiler, darkened front head and fog lights, black Range Rover lettering, 20in black forged alloy wheels, painted black bumper sections and dark exhaust finishers. Shady.
It'll be offered on the Evoque 'Dynamic' derivative, with prices starting from around £44,000. Land Rover says it's all about more styling choice for your Range Rover Evoque. "Such a striking colour combination attributes itself to the already unique styling of the Evoque," notes LR Global Director John Edwards.
Don't think this style trumps the substance underneath though. Oh no sire, quite the opposite. TG's Tom Ford took his little Evoque up to Scotland and stared a mountain square in the eye…
Source: Top Gears.
To know more about remapping price for LandRover, please visit:
http://www.landrover-remap.co.uk