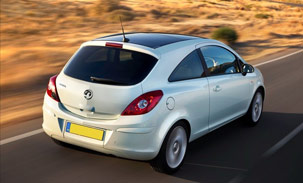 One of yesterday's jobs 2007 corsa 1.7 diesel ecoflex with the dpf light flashing on the dash. It had just left the vauxhall main dealerships after diagnostics there conclusion was a new ecu was needed to cure the fault at over £1250+ vat and for that gem of knowledge they charged £480 but they did fit a new battery in the key ? So to us comes the car.
Step 1 check for fault codes non showing.
Step 2 try to carry out a forced regeneration this failed.
Step 3 carry out our Dpf doctor pre checks hmm live data showing 128mb of back pressure at idle and 128mb at 2500 rpm and egr 0 and no movement on command Now Alarm bells are ringing.
Step 4 onto the ramp drill a small hole in the dpf insert the borascope and bingo the dpf monalith is missing.
Step 5 extract the ecu map and invesigate the file egr switched of and dpf locked in to a low pressure so as to stop regeneration. But on these if you do an egr delete it must be physically disconnected which then throws a code p0406 high resistance so now delete that code out of the ecu memory or replace the egr valve.
Step 6 reload the new file back on to the ecu with a few modifications as a few bytes of data were missing.
Step 7 reset all data clear down fault codes and road test. No new ecu needed and would never have cured the problem. The diagnosis here was reached here by live data analysis and having an idea what you're looking at whilst doing it.
Total cost £337.56 and one very happy young lady with us a very unhappy dad with the vauxhall dealer.
Call us today and find out what we can do for your vehicle
Andrew Smalley
Glenside Motor Company
The Forge, Jeykl Bank, Holbeach
St Johns
United Kingdom
PE12 8RF
Tel: 01406540038
Mobile: 07803 201018
Web: www.glensidemotorcompany.co.uk
Dealer Site: lincolnshire.quantumtuning.co.uk