Audi S8 Remap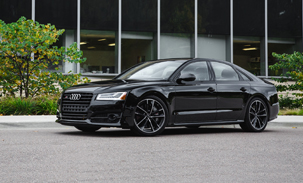 The second-generation Audi A8 (Typ 4E) built on the Volkswagen Group D3 platform was introduced in November 2002 in Europe and in early 2003 in the United States. The model was longer than the previous generation, with room for four or five large adult occupants in the cabin, depending on rear seat configuration. As with the previous version, two body variants of the second generation A8 are offered, the A8 (standard, or short wheelbase), and the long-wheelbase (LWB) A8 L. The A8 L adds 120 mm (4.7 inches) to the rear legroom and 11 mm (0.43 in) to the overall height of the car. In 2005, new internal combustion engines became available. For European and Asian market customers, the entry-level 3.0-litre V6 engine was replaced with a new 3.2-litre unit featuring Fuel Stratified Injection (FSI), which it shared with the Audi B7 A4 and Audi C6 A6. The top-of-the-line W12 version debuted that year. The advantage of the W12 engine layout is its compact packaging, allowing Audi to build a 12-cylinder sedan with all-wheel drive, whereas a conventional V12 could only have a rear-wheel drive configuration as it would have no space in the engine bay for a differential and other components required to power the front wheels. In fact, Audi's 6.0-litre W12 is actually slightly smaller by overall dimensions than the 4.2-litre V8.
So if you are in hunt to gain more power, torque and better MPG for your Audi S8 Car? Then look no further.
Our Audi S8 diesel performance chips and Audi S8 remapping via the OBD port will dramatically improve your cars performance and improve your MPG!
Every vehicle we do is Custom Remapped, nothing less will do
Every vehicle we do carries a Lifetime Warranty on the software
Every vehicle we do carries a no-quibble 30-Day Money Back Guarantee
After your ECU upgrade to your Audi S8, you will enjoy:
Increased horsepower | Increased torque | Better throttle response
Smoother power delivery | Improved fuel economy | Safer overtaking
Performance Result For Audi S8
| | | | | | | |
| --- | --- | --- | --- | --- | --- | --- |
| Model | Original BHP | Tuned BHP | BHP + | Original Nm | Tuned Nm | Nm + |
| 4.2 V8 | 340 | 370 | 9.00% | 420 | 460 | 10.000% |
| 5.2 V10 FSI | 450 | 475 | 6.00% | 477 | 517 | 8.000% |
[Note: Nm = Newton metre and BHP = Brake Horse Power]
You can call us on our Business number: 08456 529 530. Our Team will be happy to help you.
OR
You can contact Quantum Tuning Certified Dealer located near by you
OR
Click Audi S8 Remap to buy the remap package.
About Bosch EDC15:
Bosch Hdi EDC 15 consists of an ECU which analyses the information from the various Sensors, and then operates the injectors at the correct moment. It also controls a Pressure regulator, the exhaust gas recycling electro valve and the turbo charging Pressure modulating electro valve.