Bentley Arnage T Remap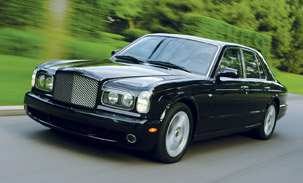 The Bentley Arnage was a large luxury car produced by Bentley Motors in Crewe, England from 1998 to 2009. The Arnage, and its Rolls-Royce-branded sibling, the Silver Seraph, were introduced in the Spring of 1998, and were the first entirely new designs for the two marques since 1980.
Another break from the past was to be found under the bonnet, for decades home to the same 6.75 litre V8 engine, a powerplant which could trace its roots back to the 1950s. The new Arnage was to be powered by a BMW V8 engine, with Cosworth-engineered twin-turbo installation, and the Seraph was to employ a BMW V12 engine.
The Arnage is over 5 metres (197 in) long, 1.9 metres (75 in) wide, and has a kerb weight of more than 2.5 metric tonnes. For a brief period it was the most powerful and fastest four-door saloon on the market.
So if you are in hunt to gain more power, torque and better MPG for your Bentley Arnage T Car? Then look no further.
After your ECU upgrade to your Bentley Arnage T Remap, you will enjoy:
Our Bentley Arnage T diesel performance chips and Bentley Arnage T remapping via the OBD port will dramatically improve your cars performance and improve your MPG!
Performance Result For Bentley Arnage T
| | | | | | | |
| --- | --- | --- | --- | --- | --- | --- |
| Model | Original BHP | Tuned BHP | BHP + | Original Nm | Tuned Nm | Nm + |
| 6700 V8 TwinTurbo | 450 | 500 | 10.00% | 875 | 1000 | 12.500% |
[Note: Nm = Newton metre and BHP = Brake Horse Power]
You can call us on our Business number: 08456 529 530. Our Team will be happy to help you.
OR
You can contact Quantum Tuning Certified Dealer located near by you
OR
Click Bentley Arnage T Remap to buy the remap package.
About DPF REMOVAL:
Quantum Tuning have decided to invest heavily in the most advanced DPF removal software, thereby improving the quality of the DPF remaps and also offer a wider range of vehicles available to have DPF removal software applied. This is the most sophisticated solution on the market and none of your competitors can offer better.