Citroen C1 Remap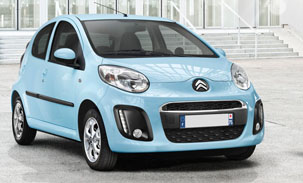 The Citroën C1 is a city car produced by the French manufacturer Citroën since 2005.
The C1 was developed as part of the B-Zero project by PSA Peugeot Citroën in a joint-venture with Toyota. The Peugeot 107 is identical to the C1 other than the front bumper and front and rear lights, while the Toyota Aygo is slightly more differentiated but still obviously similar. All of them are built at the new facilities of the TPCA joint-venture (Toyota Peugeot Citroën Automobile) in the city of Kolín, Czech Republic. The project was presented for the first time at the 2005 Geneva Motor Show. The cars are four-seater, three-door or five-door hatchbacks measuring 3.40 metres (133.9 in) in length. The body was designed by Donato Coco.
So if you are in hunt to gain more power, torque and better MPG for your Citroen C1 Car? Then look no further.
Our Citroen C1 diesel performance chips and Citroen C1 remapping via the OBD port will dramatically improve your cars performance and improve your MPG!
Every vehicle we do is Custom Remapped, nothing less will do
Every vehicle we do carries a Lifetime Warranty on the software
Every vehicle we do carries a no-quibble 30-Day Money Back Guarantee
After your ECU upgrade to your Citroen C1, you will enjoy:
Performance Result For Citroen C1
| | | | | | | |
| --- | --- | --- | --- | --- | --- | --- |
| Model | Original BHP | Tuned BHP | BHP + | Original Nm | Tuned Nm | Nm + |
| 1.4 HDI | 54 | 75 | 39.00% | 130 | 179 | 38.000% |
[Note: Nm = Newton metre and BHP = Brake Horse Power]
You can call us on our Business number: 08456 529 530. Our Team will be happy to help you.
OR
You can contact Quantum Tuning Certified Dealer located near by you
OR
Click Citroen C1 Remap to buy the remap package.
About EDC17:
The Electronic Diesel Control 17(EDC 17) controls every parameter that is important for effective, low-emission combustion. Because of the computing power and functional scope of the new EDC17 can be adapted to match particular requirements, it can be used very flexibly in any vehicle segment on all the world's markets. In addition to controlling the precise timing and quantity of injection, exhaust gas recirculation, and manifold pressure regulation, it also offers a large number of options such as the control of particulate filters or systems for reducing nitrogen oxides. The Bosch EDC17 determines the injection parameters for each cylinder, making specific adaptations if necessary.