Dodge Caliber Remap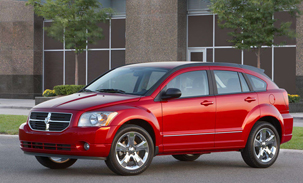 The Dodge Caliber offers a continuously variable transmission (dubbed CVT2 by Dodge) sourced from Jatco (a Nissan subsidiary), the second Daimler Chrysler model to employ this technology after the Mercedes-Benz A-Class. It uses a four-cylinder 1.8-2.4 L GEMA gasoline engine, designed jointly by Chrysler, Mitsubishi, and Hyundai.
The car features an optional electronically-controlled all-wheel drive system with variable torque at speeds of 25 to 65 mph (40 to 105 km/h) for optimal handling.
The Caliber rides on a heavily modified GS platform, co-designed with Mitsubishi Motors. The modified GS platform is now called the JS platform by Chrysler for mid-size cars and PM/MK for compact cars. It shares a portion of the platform with the Mitsubishi Lancer, but is most similar to the Jeep Compass and Jeep Patriot. The Caliber has wheels that feature a 5-hole pattern with a 114.3 mm bolt circle.
So if you are in hunt to gain more power, torque and better MPG for your Dodge Caliber Car? Then look no further.
After your ECU upgrade to your Dodge Caliber, you will enjoy:
Increased horsepower | Increased torque | Better throttle response
Smoother power delivery | Improved fuel economy | Safer overtaking
Our Dodge Caliber diesel performance chips and Dodge Caliber remapping via the OBD port will dramatically improve your cars performance and improve your MPG!
Performance Result For Dodge Caliber
| | | | | | | |
| --- | --- | --- | --- | --- | --- | --- |
| Model | Original BHP | Tuned BHP | BHP + | Original Nm | Tuned Nm | Nm + |
| 2.0 CRD | 140 | 173 | 24.00% | 320 | 380 | 19.000% |
[Note: Nm = Newton metre and BHP = Brake Horse Power]
You can call us on our Business number: 08456 529 530. Our Team will be happy to help you.
OR
You can contact Quantum Tuning Certified Dealer located near by you
OR
Click Dodge Caliber Remap to buy the remap package.
About EGR REMOVAL:
Removal of the EGR system by banking off the exhaust input and reprogramming of the engine managment ECU results in lowered engine temperatures, improved throttle response and economy and also can lengthen engine life by reducing oil contamination and carbon deposits.