Chrysler Grand Voyager Remap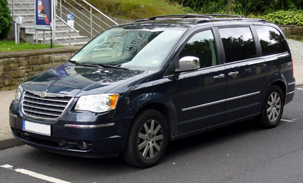 Chrysler introduced the new Grand Voyager for 2008 and successfully positioned it in the automotive market as a luxury MPV suited for large families. The Grand Voyager is visually identical to the Chrysler Town & Country which is sold in the North American and South American markets. In similar fashion to the other large multi-purpose vehicles (MPVs) on the market the Grand Voyager is sold with a standard diesel engine in Europe. The Grand Voyager is also sold in some Asian countries, like Singapore and South Korea. However, the seating is arranged in the 2–2–3 (front to rear) layout common in North America, rather than the 2–3–2 layout often seen in SUVs and MPVs in Europe. On right hand drive (RHD) models the gear shift lever is placed on a floor-mounted console between the seats, in contrast to the instrument panel positioning found on LHD models. One may also notice it has been used in the TV show The Apprentice to carry Lord Sugar's apprentices to their destination (as well as the model that preceded this one).
Standard engine
2008–present: 2.8 L (2776 cc) CRD I4, 163 hp (122 kW) at 3800 rpm and 265 lb·ft (359 N·m) at 1600 rpm.
The 2009 Grand Voyager with diesel motor gets a combined fuel economy of 9.3 L/100 km (30 mpg-imp; 25 mpg-US).
So if you are in hunt to gain more power, torque and better MPG for your Chrysler Grand Voyager Car? Then look no further.
Our Chrysler Grand Voyager diesel performance chips and Chrysler Grand Voyager remapping via the OBD port will dramatically improve your cars performance and improve your MPG!
Every vehicle we do is Custom Remapped, nothing less will do
Every vehicle we do carries a Lifetime Warranty on the software
Every vehicle we do carries a no-quibble 30-Day Money Back Guarantee
After your ECU upgrade to your Chrysler Grand Voyager, you will enjoy:
Performance Result For Chrysler Grand Voyager
| | | | | | | |
| --- | --- | --- | --- | --- | --- | --- |
| Model | Original BHP | Tuned BHP | BHP + | Original Nm | Tuned Nm | Nm + |
| 2.8 CRD | 161 | 191 | 19.00% | 359 | 420 | 17.000% |
[Note: Nm = Newton metre and BHP = Brake Horse Power]
You can call us on our Business number: 08456 529 530.Our Team will be happy to help you.
OR
You can contact Quantum Tuning Certified Dealer located near by you
OR
Click Chrysler Grand Voyager Remap to buy the remap package.
About EGR REMOVAL:
Removal of the EGR system by banking off the exhaust input and reprogramming of the engine managment ECU results in lowered engine temperatures, improved throttle response and economy and also can lengthen engine life by reducing oil contamination and carbon deposits.