Ford Fiesta V Remap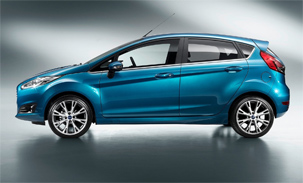 On 1 April 2002, the all new fifth-generation car was unveiled. Of this Fiesta Mark V, most engines were carried over from the previous Fiesta, but renamed "Duratec", as the "Zetec" name was now solely used for sportier models. The previous push-rod 1.3 L engine was initially available in the UK, but this was quickly replaced with a Rocam 1.3 L, both under the name Duratec 8v. Trim levels available initially were Finesse, LX, Zetec and Ghia, with limited edition variants soon following. The fifth generation was also the first Fiesta to feature the Anti-lock Braking System and passenger airbags as standard. The fifth generation was known as Mark VI in United Kingdom and elsewhere due to the fourth generation facelift being commonly referred to as the Mark V. This generation became the best-selling Ford Fiesta generation to date.
Engines available include 1.25 L, 1.3 L, 1.4 L, 1.6 L, 2.0 L petrol, plus 1.4 L 8v and 1.6 L 16v Duratorq TDCicommon-rail diesels built in a joint venture with PSA.
This was also the first Fiesta to be sold in Asia and Australasia (all 1.6 L LX 3dr/5dr, Zetec 3dr, Ghia 5dr), replacing the Kia-based Festiva. In Brazil and Argentina, a Fiesta saloon version was introduced in late 2004. A similar Fiesta saloon model, with a different front end, was released in India in late 2005. This Fiesta generation was ergonomically and mechanically more advanced than any previous generation. The 2005 facelift came with an even improved exterior.
Want to gain more power, torque and better MPG for your Ford Fiesta V Car? Then look no further.
Our Ford Fiesta V diesel performance chips and Ford Fiesta V remapping via the OBD port will dramatically improve your Car performance and improve your MPG!
Every vehicle we do is Custom Remapped, nothing less will do
Every vehicle we do carries a Lifetime Warranty on the software
Every vehicle we do carries a no-quibble 30-Day Money Back Guarantee
After your ECU upgrade to your Ford Fiesta V, you will enjoy:
Performance Result For Ford Fiesta V
| | | | | |
| --- | --- | --- | --- | --- |
| Model | Original BHP | Tuned BHP | Original Nm | Tuned Nm |
| 1.3 8V | 60 | 63 | 103 | 108 |
| 1.4 16V | 90 | 96 | 125 | 133 |
| 1.6 16V | 103 | 110 | 145 | 154 |
| 1.8 TD | 75 | 92 | 140 | 185 |
[Note: Nm = Newton metre and BHP = Brake Horse Power]
You can call us on our Business number: 08456 529 530. Our Team will be happy to help you.
OR
You can contact Quantum Tuning Certified Dealer located near by you
OR
Click Ford Fiesta V Remap to buy the remap package.
About: DPF Removal
Quantum Tuning have decided to invest heavily in the most advanced DPF removal software, thereby improving the quality of the DPF remaps and also offer a wider range of vehicles available to have DPF removal software applied. This is the most sophisticated solution on the market and none of your competitors can offer better.