Ford US Explorer Remap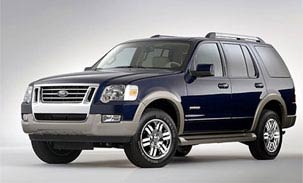 The Ford Explorer is a Full-Size SUV built by the American Automaker Ford Motor Company (FMC) since 1990. previous class for Mid-Size SUV. It is manufactured in Chicago, Illinois. It was also assembled in Hazelwood, Missouri until the plant closed on March 10, 2006. The Ford Explorer was instrumental in turning the SUV from a special interest vehicle into one of the most popular vehicle types on the road. The model years through 2010 were traditional body-on-frame, mid-size SUVs. For the 2011 model year, Ford moved the Explorer to a more modern unibody, full-size crossover utility vehicle platform, the same Volvo-derived platform the Ford Flex and Ford Taurus use. It is slotted between the traditional body-on-frame, full-size Ford Expedition and the mid-size CUV Ford Edge. Although outwardly similar, the fifth generation Explorer, Ford Edge and Ford Escape do not share platforms. The fifth generation Explorer does, however, share platforms with the Ford Flex and Lincoln MKT.
The Explorer has also been involved in controversy, after a spate of fatal rollover accidents in the 1990s involving Explorers fitted with Firestonetires. Both two-door Explorer Sport and four-door models of Explorer have been sold. Part-time four-wheel drive is an available option, and since 1995 this has been a 'shift on the fly' system with full protection against being engaged at high speed. A specially modified Special Service Vehicle version is also available from Ford Fleet for law enforcement agencies, fire departments, and EMS agencies. Explorer was also the name of a trim package offered on the Ford F-Series trucks from 1968 to 1986. The 2011 Ford Explorer was named North American Truck of the Year.

If you want to gain more power, torque and better MPG for your Ford US Explorer Car? Then look no further.
Our Ford US diesel performance chips and Ford US remapping via the OBD port will dramatically improve your Car performance and improve your MPG!
Every vehicle we do is Custom Remapped, nothing less will do
Every vehicle we do carries a Lifetime Warranty on the software
Every vehicle we do carries a no-quibble 30-Day Money Back Guarantee
After your ECU upgrade to your Ford US Explorer, you will enjoy:
Performance Result For Ford US Explorer
| | | | | |
| --- | --- | --- | --- | --- |
| Model | Original BHP | Tuned BHP | Original Nm | Tuned Nm |
| 4000 V6 | 210 | 230 | 344 | 364 |
| 4600 V8 | 292 | 312 | 427 | 447 |
| 5000 V8 | 215 | 235 | 380 | 400 |
[Note: Nm = Newton metre and BHP = Brake Horse Power]
You can call us on our Business number: 08456 529 530. Our Team will be happy to help you.
OR
You can contact Quantum Tuning Certified Dealer located near by you
OR
Buy Your Ford US Explorer Remap Online and Save 5% from retail price.
About: BOSCH EDC 15
Bosch Hdi EDC 15 consists of an ECU which analyses the information from the various Sensors, and then operates the injectors at the correct moment. It also controls a Pressure regulator, the exhaust gas recycling electro valve and the turbo charging Pressure modulating electro valve.