Great Wall Motors Hover 5 Remap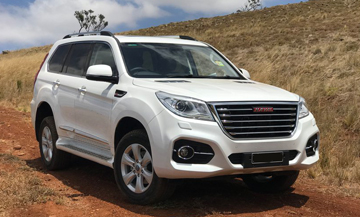 It will be an old design, still far from Suv European, Japanese or Korean, however, has made ​​giant leaps forward and can rightly boast. The Chinese Hover 5 , the Great Wall , finally "becomes" a real car. Not little, as in the first two years of sales had to settle for approval as truck 4 seats. Tanta substance flight. The "5" in the name indicates precisely the five-seater car, to emphasize that this is a car as the other. Or almost. This Suv Chinese (but a little Japanese, as we shall see) offers all the essentials at a low-cost, with a list that starts from 20,000 euro. The Hover 5 reminds a lot of the Mitsubishi Pajero Sport a few years ago, for dimensions, lines, ladder-frame chassis and, last but not least, the 2.4 petrol engine, with conversion to LPG bi-fuel of Brc for the Italian market (optional from 1900 euro). Among the novelties, there are the front suspension, now with normal coil springs instead of torsion bars, and a steering improved, more direct and precise than the first Hover, even if not yet entirely satisfactory. Aesthetically, the Hover 5 is not bad: it has a new front end with elongated headlights and a bumper in line with the rules for the protection of pedestrians (determinant for approval as a passenger).climb on board.
If you want to gain more power, torque and better MPG for your Great Wall Motors Hover 5 Car? Then look no further.
Our Great Wall Motors Hover 5 diesel performance chips and Great Wall Motors Hover 5 remapping via the OBD port will dramatically improve your Car performance and improve your MPG!
Every vehicle we do is Custom Remapped, nothing less will do
Every vehicle we do carries a Lifetime Warranty on the software
Every vehicle we do carries a no-quibble 30-Day Money Back Guarantee
After your ECU upgrade to your Great Wall Motors Hover 5, you will enjoy:
Performance Result For Great Wall Motors Hover 5
| | | | | |
| --- | --- | --- | --- | --- |
| Model | Original BHP | Tuned BHP | Original Nm | Tuned Nm |
| 2000 TDI | 150 | 175 | 310 | 365 |
[Note: Nm = Newton metre and BHP = Brake Horse Power]
You can call us on our Business number: 08456 529 530. Our Team will be happy to help you.
OR
You can contact Quantum Tuning Certified Dealer located near by you
OR
Buy Your Great Wall Motors Hover 5 Remap Online and Save 5% from retail price.
About: Bosch EDC 17
The Electronic Diesel Control 17(EDC 17) controls every parameter that is important for effective, low-emission combustion. Because of the computing power and functional scope of the new EDC17 can be adapted to match particular requirements, it can be used very flexibly in any vehicle segment on all the world's markets. In addition to controlling the precise timing and quantity of injection, exhaust gas recirculation, and manifold pressure regulation, it also offers a large number of options such as the control of particulate filters or systems for reducing nitrogen oxides. The Bosch EDC17 determines the injection parameters for each cylinder, making specific adaptations if necessary.