Great Wall Motors Hover Remap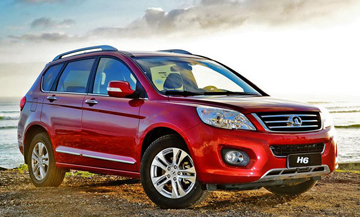 The Hover was the first Chinese car to be sold officially in Italy . It is a sport utility vehicle along more than 4.60 meters derived from the frame rails to the last series of Opel Frontera . In fact, the Chinese house has bought the project from General Motors after the end of production of the original car sold under the brand Isuzu and under the name Axiom . Use suspensions configured according to the scheme in multi-link (Multilink), the front while the rear has 2 arms 4.
The line has a rounded front designed by designers Great Wall while the tail is unchanged all'Axion. The motor gasoline is produced under license from Mitsubishi , is an updated version of the homonymous 2.4 16V 4-cylinder engine that powered the Galant in the nineties but detuned to 126 horsepower . On the Italian market you may have even combined with a heating to LPG or CNG ( Hover Ecodual ). For the Asian market is also a 2.8 16V engine turbo diesel by 95 horsepower produced by the Great Wall.
The traction is integral permanent but is also a version with the sun wheel drive rear . The transmission is a manual 5-speed 5 more reduced while coupled to the preparation of the tip ( Super Luxury ) there is an automatic 5-speed. The house says a top speed of 160 km / h, a consumption of 7.6 km / l in the average cycle and emissions of carbon dioxide equal to 314 grams emitted per km.
If you want to gain more power, torque and better MPG for your Great Wall Motors Hover Car? Then look no further.
Our Great Wall Motors Hover diesel performance chips and Great Wall Motors Hover remapping via the OBD port will dramatically improve your Car performance and improve your MPG!
Every vehicle we do is Custom Remapped, nothing less will do
Every vehicle we do carries a Lifetime Warranty on the software
Every vehicle we do carries a no-quibble 30-Day Money Back Guarantee
After your ECU upgrade to your Great Wall Motors Hover, you will enjoy:
Performance Result For Great Wall Motors Hover
| | | | | |
| --- | --- | --- | --- | --- |
| Model | Original BHP | Tuned BHP | Original Nm | Tuned Nm |
| 2500 TDI | 107 | 129 | | |
| 2800 TDI | 135 | 165 | | |
[Note: Nm = Newton metre and BHP = Brake Horse Power]
You can call us on our Business number: 08456 529 530. Our Team will be happy to help you.
OR
You can contact Quantum Tuning Certified Dealer located near by you
OR
Buy Your Great Wall Motors Hover Remap Online and Save 5% from retail price.
About: Bosch EDC 16
The new Electronic Diesel Control EDC 16 engine management system from Bosch has its debut in the V10-TDI- and R5-TDI-engines. Bosch EDC 16 engine management system is designed to be compatible as both a single and double control unit concept. The actual concept used depends on the number of cylinders in the engine.