Honda Accord Remap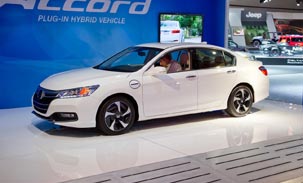 The Honda Accord is a series of automobiles manufactured by Honda since 1976, best known for its four-door sedan variant which has been one of the best-selling cars in the United States since 1989. The Accord nameplate has been applied to a variety of vehicles worldwide, including coupes, wagons, hatchbacks and a crossover. In 1982, the Accord became the first car from a Japanese manufacturer to be produced in the United States when production commenced in Marysville, Ohio at Honda's Marysville Auto Plant. The Accord has achieved considerable success, especially in the United States, where it was the best-selling Japanese car for fifteen years (1982–97), topping its class in sales in 1991 and 2001, with around ten million vehicles sold. Numerous road tests, past and present, rate the Accord as one of the world's most reliable vehicles.
If you want to gain more power, torque and better MPG for your Honda Accord Car? Then look no further.
After your ECU upgrade to your Honda Accord, you will enjoy:
Increased horsepower | Increased torque | Better throttle response
Smoother power delivery | Improved fuel economy | Safer overtaking
Our Honda Accord diesel performance chips and Honda Accord remapping via the OBD port will dramatically improve your Car performance and improve your MPG!
Every vehicle we do is Custom Remapped, nothing less will do
Every vehicle we do carries a Lifetime Warranty on the software
Every vehicle we do carries a no-quibble 30-Day Money Back Guarantee
Performance Result For Honda Accord
| | | | | |
| --- | --- | --- | --- | --- |
| Model | Original BHP | Tuned BHP | Original Nm | Tuned Nm |
| 2.2 CTDI – 140 | 140 | 170 | 340 | 400 |
| 2.2 DTEC – 147 | 147 | 174 | 350 | 405 |
| 2.2 DTEC – 180 | 180 | 225 | 380 | 460 |
[Note: Nm = Newton metre and BHP = Brake Horse Power]
You can call us on our Business number: 08456 529 530. Our Team will be happy to help you.
OR
You can contact Quantum Tuning Certified Dealer located near by you
OR
Click Honda Accord Remap to buy the remap package.
About: DPF REMOVAL
Quantum Tuning have decided to invest heavily in the most advanced DPF removal software, thereby improving the quality of the DPF remaps and also offer a wider range of vehicles available to have DPF removal software applied. This is the most sophisticated solution on the market and none of your competitors can offer better.