Kia Soul Remap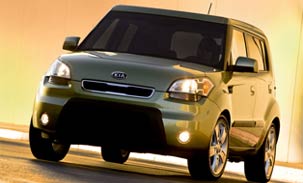 The Kia Soul is a compact car designed at Kia's design center in California, unveiled at the 2008 Paris Motor Show, manufactured in South Korea and marketed globally beginning with model year 2010.

In early 2005, as a new member of Tom Kearns' American Kia Design Team in Irvine California, the Soul concept was the brainchild of Mike Torpey, who was sent to KIA's Korean Concept Design Center to brainstorm a new type of vehicle that would help bring KIA Automobile Designs to the next level. In the short time he had…he had an inspiration for the design…using a mental visual picture of a powerful Boar with big front shoulders sloping back to it's rear legs…and for utility… wearing a back pack! So the KIA Soul was born with a sloping roof line and a "trunk" on the hatchback.
The new design sketches were a hit, and the Soul car concept was built for the 2008 Paris Auto Show.
Peter Schreyer, formally the designer of the Audi TT and other cars at Volkswagon, came on board with the KIA Automotive Group as the new KIA Corporte Design Chief, and added some touches to the new Soul Concept for the upcoming Auto Show, adding to the Soul Concepts nose his now Signature Kia corporate grille, known as the Tiger Nose.
If you want to gain more power, torque and better MPG for your Kia Soul Car? Then look no further.
Our Kia diesel performance chips and Kia remapping via the OBD port will dramatically improve your Car performance and improve your MPG!
Every vehicle we do is Custom Remapped, nothing less will do
Every vehicle we do carries a Lifetime Warranty on the software
Every vehicle we do carries a no-quibble 30-Day Money Back Guarantee
After your ECU upgrade to your Kia Soul, you will enjoy:
Increased horsepower | Increased torque | Better throttle response
Smoother power delivery | Improved fuel economy | Safer overtaking
Performance Result For Kia Soul
| | | | | |
| --- | --- | --- | --- | --- |
| Model | Original BHP | Tuned BHP | Original Nm | Tuned Nm |
| 1.6 CRDi Boot Tricore | 126 | 150 | 260 | 310 |
| 1600 16v GDI | 140 | 152 | 305 | 317 |
| 1600 16v CRDI – 116 | 116 | 155 | 260 | 330 |
[Note: Nm = Newton metre and BHP = Brake Horse Power]
You can call us on our Business number: 08456 529 530. Our Team will be happy to help you.
OR
You can contact Quantum Tuning Certified Dealer located near by you
OR
Buy Your Kia Soul Remap Online and Save 5% from retail price.
About: BOSCH EDC
Bosch Electronic Diesel Control ensures ideal diesel injection control at all engine operating points. It evaluates in real time sensor data on the temperatures of coolant, fuel and charge air as well as the momentary engine speed, the position of the accelerator pedal and the intake air mass. From these values the EDC calculates the best possible injection process and the correct amount of fuel to be injected.