Maserati Granturismo S Remap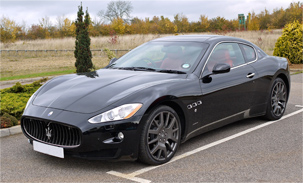 The Maserati GranTurismo is a two-door 2+2 coupé produced by Maserati. It shares the platform of the Maserati Quattroporte V.
The S version was unveiled in 2008 Geneva Motor show and features a 4.7 litre (4,691 cc (286.3 cu in)) V8 engine rated 440 PS (324 kW; 434 hp) at 7000 rpm and 490 N·m (360 lb·ft) at 4750 rpm, a robotic 6-speed sequential semi-automatic transmission with transaxle layout, 47% front and 53% rear weight distribution. The standard suspension set-up is fixed-setting steel dampers, with the Skyhook adaptive suspension available as an option. It was available in the North American market only for 2009 MY.
If you want to gain more power, torque and better MPG for your Maserati Granturismo S Car? Then look no further.
Our Maserati diesel performance chips and Maserati remapping via the OBD port will dramatically improve your Car performance and improve your MPG!
Every vehicle we do is Custom Remapped, nothing less will do
Every vehicle we do carries a Lifetime Warranty on the software
Every vehicle we do carries a no-quibble 30-Day Money Back Guarantee
After your ECU upgrade to your Maserati Granturismo S, you will enjoy:
Performance Result For Maserati Granturismo S
| | | | | |
| --- | --- | --- | --- | --- |
| Model | Original BHP | Tuned BHP | Original Nm | Tuned Nm |
| 4700 V8 | 434 | 463 | 490 | 510 |
[Note: Nm = Newton metre and BHP = Brake Horse Power]
You can call us on our Business number: 08456 529 530. Our Team will be happy to help you.
OR
You can contact Quantum Tuning Certified Dealer located near by you
OR
Buy Your Maserati Granturismo S Remap Online and Save 5% from retail price.
About: Bosch EDC 16
The new Electronic Diesel Control EDC 16 engine management system from Bosch has its debut in the V10-TDI- and R5-TDI-engines. Bosch EDC 16 engine management system is designed to be compatible as both a single and double control unit concept. The actual concept used depends on the number of cylinders in the engine.