Land Rover Vogue Remap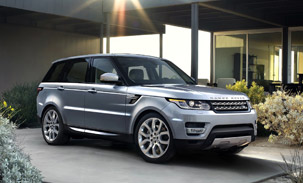 For added comfort, the Range Rover SDV8 Vogue SE comes with many advanced features as standard. The exterior has an imposing front grille which combines Dark Atlas and Atlas, as well as body-coloured front bumper, Atlas vent blades and Noble plated upper & lower door handles give a seamless appearance.
A wide choice of interior colourway combinations and exterior paints allows for personalisation and there's also selection of striking alloy wheels, with new 21 inch 10-Spoke wheels as standard. Inside the Range Rover SDV8 Vogue SE there are the finest Semi Aniline leather seats. Front seats have driver and passenger seat memory, front climate seats as standard. For an enhanced sound experience, the state-of-the-art Meridian* 825 Watt Sound System delivers optimised sound quality for all passengers.
The superb performance orientated LR-SDV8 4.4 litre Diesel engine, paired with an advanced eight-speed automatic transmission, delivers a balance of improved fuel efficiency and strong performance.
If you want to gain more power, torque and better MPG for your Land Rover Range Rover Vogue Car? Then look no further.
Our Land Rover diesel performance chips and Land Rover remapping via the OBD port will dramatically improve your Car performance and improve your MPG!
Every vehicle we do is Custom Remapped, nothing less will do
Every vehicle we do carries a Lifetime Warranty on the software
Every vehicle we do carries a no-quibble 30-Day Money Back Guarantee
After your ECU upgrade to your Land Rover Range Rover Vogue, you will enjoy:
Performance Result For Land Rover Vogue
| | | | | |
| --- | --- | --- | --- | --- |
| Model | Original BHP | Tuned BHP | Original Nm | Tuned Nm |
| 4.2 V8 S/C | 390 | 412 | 560 | 578 |
| 4.4 V8 | 300 | 320 | 425 | 466 |
| TD6 | 174 | 205 | 390 | 440 |
| 3.6 TDV8 | 268 | 314 | 640 | 730 |
| 4.4 TDV8 | 308 | 345 | 700 | 800 |
[Note: Nm = Newton metre and BHP = Brake Horse Power]
You can call us on our Business number: 08456 529 530. Our Team will be happy to help you.
OR
You can contact Quantum Tuning Certified Dealer located near by you
OR
Buy Your Land Rover Vogue Remap Online and Save 5% from retail price.
About: BOSCH EDC 15
Bosch Hdi EDC 15 consists of an ECU which analyses the information from the various Sensors, and then operates the injectors at the correct moment. It also controls a Pressure regulator, the exhaust gas recycling electro valve and the turbo charging Pressure modulating electro valve.