Mazda Rx8 Remap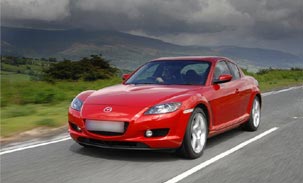 The Mazda RX-8 is a sports car manufactured by Mazda Motor Corporation. It first appeared in 2001 at the North American International Auto Show. It is the successor to the RX-7 and, like its predecessors in the RX range, it is powered by a Wankel engine. The RX-8 began North American sales in the 2004 model year.
Mazda announced on August 23, 2011, that RX-8 will be discontinued from production citing the 2011 model as the last line of production. The RX-8 was removed from the European market in 2010 after the car failed to meet emissions standards.
Without the volume sales from Europe coupled with rising Yen prices, Mazda could not justify the continued sale of the RX-8 in other markets.
If you want to gain more power, torque and better MPG for your Mazda Rx8 Car? Then look no further.
Our Mazda diesel performance chips and Mazda remapping via the OBD port will dramatically improve your Car performance and improve your MPG!
Every vehicle we do is Custom Remapped, nothing less will do
Every vehicle we do carries a Lifetime Warranty on the software
Every vehicle we do carries a no-quibble 30-Day Money Back Guarantee
After your ECU upgrade to your Mazda Rx8, you will enjoy:
Performance Result For Mazda Rx8
| | | | | |
| --- | --- | --- | --- | --- |
| Model | Original BHP | Tuned BHP | Original Nm | Tuned Nm |
| 1.3 – 192 | 189 | 189 | 220 | 220 |
| 1.3 – 231 | 227 | 227 | 211 | 211 |
[Note: Nm = Newton metre and BHP = Brake Horse Power]
You can call us on our Business number: 08456 529 530. Our Team will be happy to help you.
OR
You can contact Quantum Tuning Certified Dealer located near by you
OR
Buy Your Mazda RX-8 Remap Online and Save 5% from retail price.
About: EGR REMOVAL
Removal of the EGR system by banking off the exhaust input and reprogramming of the engine managment ECU results in lowered engine temperatures, improved throttle response and economy and also can lengthen engine life by reducing oil contamination and carbon deposits.