Ssangyong Kyron Remap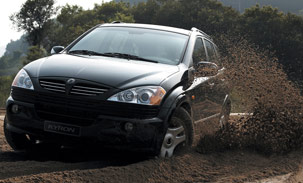 The SsangYong Kyron is a mid-size sport utility vehicle (SUV) built by the SsangYong Motor Company. It has a 104 kW (139 hp)/310 N·m (230 lb·ft) Mercedes-Benz diesel engine and was designed by MG's Ken Greenly. In 2007, the Kyron received a facelift in an attempt to take on board the criticism of the previous version and improve the company's image.
If you want to gain more power, torque and better MPG for your Ssangyong Kyron Car? Then look no further.
After your ECU upgrade to your Ssangyong Kyron, you will enjoy:
Our Ssangyong diesel performance chips and Ssangyong remapping via the OBD port will dramatically improve your Car performance and improve your MPG!
Every vehicle we do is Custom Remapped, nothing less will do
Every vehicle we do carries a Lifetime Warranty on the software
Every vehicle we do carries a no-quibble 30-Day Money Back Guarantee
Performance Result For Ssangyong Kyron
| | | | | |
| --- | --- | --- | --- | --- |
| Model | Original BHP | Tuned BHP | Original Nm | Tuned Nm |
| 2.0 XDI | 144 | 173 | 310 | 372 |
| 2.7 XDI | 163 | 196 | 342 | 410 |
[Note: Nm = Newton metre and BHP = Brake Horse Power]
You can call us on our Business number: 08456 529 530. Our Team will be happy to help you.
OR
You can contact Quantum Tuning Certified Dealer located near by you
OR
Buy Your Ssangyong Kyron Remap Online and Save 5% from retail price.
About: BOSCH EDC
Bosch Electronic Diesel Control ensures ideal diesel injection control at all engine operating points. It evaluates in real time sensor data on the temperatures of coolant, fuel and charge air as well as the momentary engine speed, the position of the accelerator pedal and the intake air mass. From these values the EDC calculates the best possible injection process and the correct amount of fuel to be injected.