Ford US Everest Remap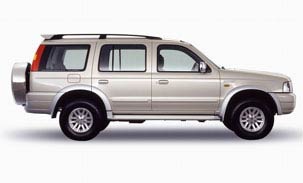 The Ford Everest is a mid-size SUV produced by Ford Motor Company Thailand in Rayong, Thailand and derived from the Ford Ranger. it was introduced in 2003 was based on the Mazda B-Series and Later BT-50. Everest is a five-door wagon variant of the Ford Ranger four-door utility. The Everest is known as the Ford Endeavour in the Indian market. The Redesigned Everest was introduced at the April 2013 Manila International Auto Show and went on sale in Asia that same Year. The redesigned 2014 Endeavor was but introduced at the 2014 New Delhi Auto Expo. It has a 2.6-litre petrol engine, with a five-speed manual or a four-speed automatic transmission, and is manufactured locally. The all new 2014 Everest an SUV and adopted a unibody design. It rides on the same platform as the Mazda BT-50 or Ford Ranger. This generation also abandons the door handles that were placed on the Mazda's pillar that were present in the previous one generations. As of 2013 the Facelift-III series is only available in Asia. It also competes for the 2013 Isuzu Crosswind.
If you want to gain more power, torque and better MPG for your Ford US Everest Car? Then look no further.
After your ECU upgrade to your Ford US Everest, you will enjoy:
Our Ford US diesel performance chips and Ford US remapping via the OBD port will dramatically improve your Car performance and improve your MPG!
Every vehicle we do is Custom Remapped, nothing less will do
Every vehicle we do carries a Lifetime Warranty on the software
Every vehicle we do carries a no-quibble 30-Day Money Back Guarantee
Performance Result For Ford US Everest
| | | | | |
| --- | --- | --- | --- | --- |
| Model | Original BHP | Tuned BHP | Original Nm | Tuned Nm |
| 3.0 TDI | 160 | 182 | 380 | 461 |
[Note: Nm = Newton metre and BHP = Brake Horse Power]
You can call us on our Business number: 08456 529 530. Our Team will be happy to help you.
OR
You can contact Quantum Tuning Certified Dealer located near by you
OR
Buy Your Ford US Everest Remap Online and Save 5% from retail price.
About: EGR REMOVAL
Removal of the EGR system by banking off the exhaust input and reprogramming of the engine management ECU results in lowered engine temperatures, improved throttle response and economy and also can lengthen engine life by reducing oil contamination and carbon deposits.