Honda Civic Remap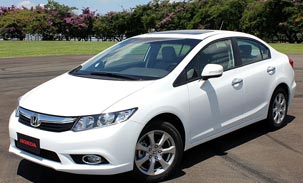 The Honda Civic is a line of subcompact and subsequently compact cars made and manufactured by Honda. The Civic, along with the Accord and Prelude, comprised Honda's vehicles sold in North America until the 1990s, when the model lineup was expanded. Having gone through several generational changes, the Civic has become larger and more upmarket, and it currently slots between the Fit and Accord.
It was introduced in July 1972 as a two-door model, followed by a three-door hatchback that September. With the transverse engine mounting of its 1169 cc engine and front-wheel drive like the British Mini, the car provided good interior space despite overall small dimensions. Early models of the Civic typically included a basic AM radio, heater, foam-cushioned plastic trim, two-speed wipers, and painted steel rims with a chromed wheel nut cap. As the years went by, it has become much more upscale with options such as air conditioning, power locks, power windows, leather upholstery, satellite-linked navigation, and a six-speed manual transmission. Initially gaining a reputation for being fuel-efficient, reliable, and environmentally friendly, later iterations have become known for performance and sportiness, especially the Civic Type-R, Civic GTi and Civic SiR.

If you want to gain more power, torque and better MPG for your Honda Civic Car? Then look no further.
Our Honda Civic diesel performance chips and Honda Civic remapping via the OBD port will dramatically improve your Car performance and improve your MPG!
Every vehicle we do is Custom Remapped, nothing less will do
Every vehicle we do carries a Lifetime Warranty on the software
Every vehicle we do carries a no-quibble 30-Day Money Back Guarantee
After your ECU upgrade to your Honda Civic, you will enjoy:
Performance Result For Honda Civic
| | | | | |
| --- | --- | --- | --- | --- |
| Model | Original BHP | Tuned BHP | Original Nm | Tuned Nm |
| 2.2 CTDI | 140 | 170 | 340 | 400 |
| 1.7 CTDI | 99 | 119 | 220 | 264 |
| 1.6 DTEC | 118 | 118 | 300 | 300 |
[Note: Nm = Newton metre and BHP = Brake Horse Power]
You can call us on our Business number: 08456 529 530. Our Team will be happy to help you.
OR
You can contact Quantum Tuning Certified Dealer located near by you
OR
Click Honda Civic Remap to buy the remap package.
About: BOSCH EDC
Bosch Electronic Diesel Control ensures ideal diesel injection control at all engine operating points. It evaluates in real time sensor data on the temperatures of coolant, fuel and charge air as well as the momentary engine speed, the position of the accelerator pedal and the intake air mass. From these values the EDC calculates the best possible injection process and the correct amount of fuel to be injected.